Food Informants is a week-in-the-life series profiling fascinating people in the food world. We hope it will give you a first-hand look at the many different corners of the food industry. Know someone who would make a great Food Informant? Tell us why.
Jay Gilbertson and Ken Seguine produce the first pumpkin seed oil made in the U.S.. With a strong commitment to create jobs in their local community, the long–term vision is for Northwest Wisconsin to become known as where America's pumpkin seed oil is produced. The oil works as a vinaigrette salad dressing, bread dip, or drizzled on soups, cooked vegetables, popcorn or even ice cream. Jay is an author of the Madeline Island series, and is from Eau Claire, WI. Ken is from Los Angeles. The couple has been together 18 years.
Read more about how Jay and Ken work to grow their small food business.
Monday, July 8
4:30am: Shh…it's early, Jay is still asleep. I'm too excited, today is our first day being a "Food Informant." Howdy-do readers! This is going to be a great week, we have some very cool things happening. We're driving to Minneapolis/St. Paul airport this morning and flying to Milwaukee for the summer meeting of the State of Wisconsin Organic Advisory Council. I've been proud to be on the council for the past two years.
8:20am: THE place to eat at MSP for delicious, organic, local food is French Meadow Bakery Café, in the main concourse. French Meadow Bakery was the first certified organic bakery in the nation, visionary owner Lynn Gordon has always been ahead of her time. My Organic Zone Omelet is wonderful, complete with their trademarked Man Bread™ (for manly men, surely).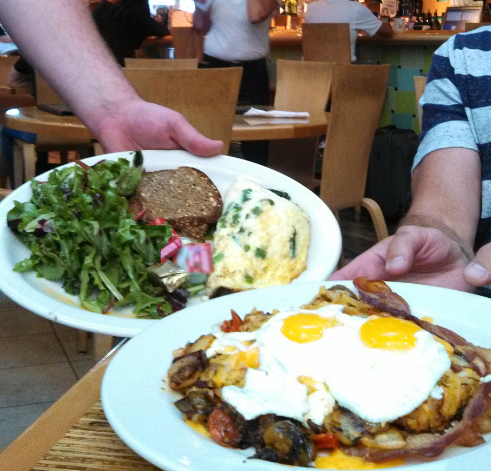 9:20am: Waiting for the flight, nice to just sit. We busted our butts over the holiday weekend beating back the weeds in the pumpkin field. Here I'm tilling in the background and friend, farm worker, belly dancer and coach Jen Bush, strikes a pose. The weather did not cooperate; it was gross, so hot and humid. Being organic certified really knocks down your options for dealing with weeds. Pretty much all we get is cultivation. We tilled between the rows then with our crew hand hoed between the plants.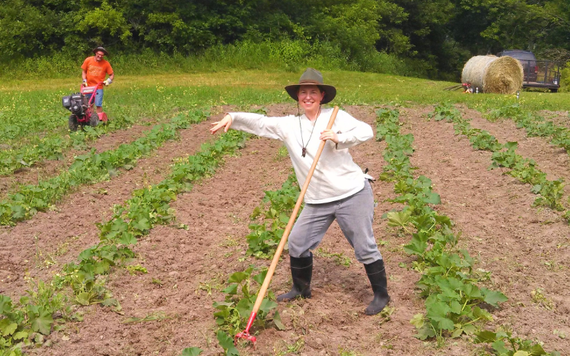 3:00pm: Outpost Natural Foods Capitol Drive location. We had set up a demo (sampling) for our pumpkin seed oil. It is fun to meet people, we always sell product for our retailers and get to introduce the American public to this treat. Common in Austria, where they are the world's largest producers and consumers, we are proud to sell, "America's first pumpkin seed oil™". Generally it is most people's first taste of the rich, nutty and unique flavor.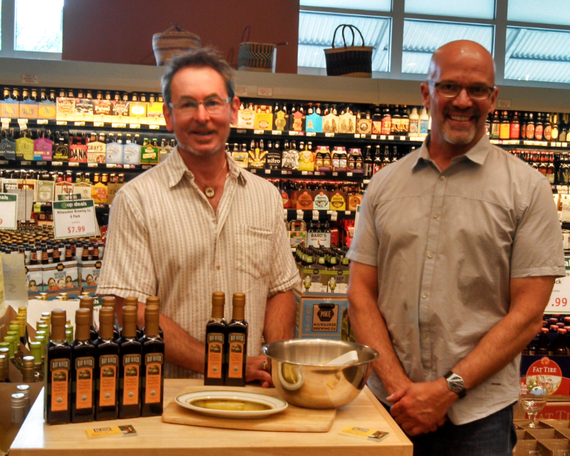 5:00pm: Store traffic slowing down, we get bored and play our favorite slow-store-demo game. Find the most unusual item in the whole place. Jay wins hands down, powdered peanut butter.
6:30pm: Meet up with friends and Wisconsin Organic Advisory Board Council members Jennifer Casey, her husband Aaron and Inga Witcher and her husband Joe Mauer at La Merenda. Jennifer lives in Milwaukee and has deep connections to the local Slow Food scene, and had recommended the restaurant. Inga is host of the new Wisconsin Public Television series, "Around the Farm Table." The restaurant is wonderful. Chef & owner Peter Sandroni visits the table and shared his passion and commitment to local purveyors and investment in his local community. It's a tapas restaurant, our favorites -- duck confit crepes and ceviche with fried plantains.
Tuesday, July 9
9:45am: We arrive at the Michael Fields Agricultural Institute for the summer Wisconsin Organic Advisory Council meeting, Jay is my guest. I serve as the secretary of the council. The WOAC was established in 2006 to make the state #1 in the nation for organic agriculture. Things are going well. In most categories, Wisconsin is a solid second place (some other state, Californiasomething, is first) and in some dairy categories, we win. Today we have a brief meeting, updates on the Farm Bill (affects every American's diet and the health of the nation) and we send our recommendations on modification of the Food Safety and Modernization Act to harmonize with national organic standards. Big rainstorm so we had to do virtual tours of the Institute and the nearby Krusen Grass Farms, farmers Alfrid and Sue are the experts when it comes to organic, grass-fed beef and dairy.
11:30pm: We make the 1.5 hour drive home from the airport, unpack, attend to the needs of our newly diabetic cat and settle in for some comfort food. Sautéed chard and garlic scapes (the long curvy flower bud and stem) scrambled with eggs.
Wednesday, July 10
8:30am: We catch up on emails and make arrangements for the crew to finish hand hoeing the pumpkins. It had been getting pretty dry here and we are happy to see we had 1.25" of rain yesterday. Farming is always such a crap shoot, sometimes it feels like we are always teetering on the brink of disaster; killing frosts in early June, cucumber beetles out of control, no rain for 3+ weeks. It keeps things interesting. We had a very expert farmer friend, author Atina Diffley, once say our expression of farming was joyous. News to me. Internally I often feel something in between anxiety and nausea. Neither one of us has a farming background so this has been a learn-as-you-go operation.
10:45am: Where is the morning going? We need to eat but really need to shop. Not a quick task for us, we live about 35 miles from the nearest store for our main needs, Menomonie Cooperative Market. Makes it close to two hours to go shopping. At times like this we get creative and have lamb shanks and fiddle head fern fronds for breakfast. We love that all the meat we eat comes from people we know and encourage everybody to find some local producers and buy directly from them. Works best if you have some freezer space but it is the best way to get healthy, humanely raised meat. We had frozen the fern fronds earlier in the spring. They are small green spirals that had yet to unfurl. They taste green, something in between green beans and asparagus. We lightly sauté them in olive oil then freeze and finish cooking before eating.
11:10am: We meet Bob Grundy and Telea Dodge in the field for the last of the hand hoeing. We think about sustainability not only for the land but for the people. Our goal is to create jobs as NW Wisconsin becomes known where America's pumpkin seed oil comes from. We've committed to pay substantially above local agricultural wages and consequently we always have a fun, hard-working team. Bob is a 62 year-old-punk rocker, and a member of the punk back-to-the-land movement (who knew?). You can read his story here. Telea Dodge (known to us and on her Facebook page as "Telea the great") and her sister Liana are close neighbors and have worked hard for us for years. We employee a bunch of people to plant seeds, then transplant seedlings, a few people to weed a bit during season then a much larger group joins us at harvest in early October.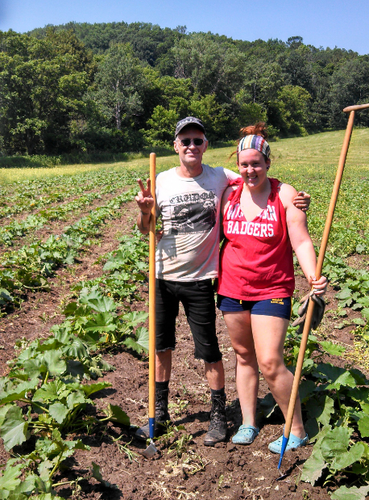 11:40am: I need a job and am working LinkedIn like a fiend. As with many small farm operations, both Jay and I have what is called "off farm income." Jay is an author and I've worked in what is called the natural products industry in sales and marketing my entire adult life. I've been Global Sales Director at Aveda Corporation and for the last 12 years created and launched a line of herbal supplements sold in health food stores and natural grocers such as Whole Foods. I'm looking for a new opportunity and if you were just thinking, "Boy I'd like to hire a talented and hard-working sales executive," I'm your man.
3:30pm: Call from Mike and Patty, do we want to come over for wood-fired pizzas? Could we bring something for dessert? Wood-fired pizzas, yup, we'll figure something out. Fortunately for them we've already used the lamb and octopus options for dessert, what to do? Jay has an idea, we have some pumpkin seed butter and he'll make pumpkin seed butter cookies served with ice cream and topped with a drizzle of pumpkin seed oil plus a sprinkle of salt. After we harvest, clean and dry the seeds, they go north to Botanic Oil Innovations in Spooner, WI to be cold pressed. After the oil is pressed from the seeds, it sits for 4-6 weeks to let very fine particles of the seeds settle out. What is left on the bottom is the butter.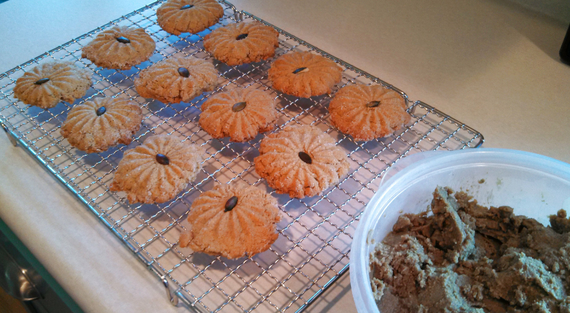 9:20pm: Pizzas so good, now enjoying our dessert with former state representative, Joe Plough (brought his home-brewed beer), Lavonne, Jay and Mike and Patty who operate Spring Hill Community farm, one of the most successful local CSAs.
Thursday, July 11
9:30am: We need some serious office time. Here's Jay working on the final edits for his new novel. He's also reviewing the audio version of his last release, "Full Moon Over Madeline Island." I just got a call from Mr. Zuckerberg, if I don't update our pumpkin seed oil Facebook page today they are taking away my rights.
1:15pm: Continuing office day, emails, bookkeeping and applying to the Good Foods Merchants Guild. We also entered the brand new oil category in the annual Good Foods Awards. Wish us luck!
4:00pm: We stop by friend, neighbor, farmer and pumpkin seed grower Kate Stout's farm. She operates a CSA, North Creek Community Farm, and we are members. We pick up this weeks share of vegetables and inspect the progress on her pumpkins, they look great but we have to ask why she has planted buckwheat between the rows. Kate's a pro so there's got to be a good reason.
Friday, July 12
8:00am: We sell our pumpkin seed oil on our website and in natural grocers primarily in the Upper Midwest. For some reason last week was a bumper week for sales. Got a call from our most local retailer, Renee at Bolen Vale Cheese, she's out of stock (inventory management, Renee!) and has customers coming back later to purchase. We quick prep some bottles. We heat shrink the foil cap and hand apply the labels.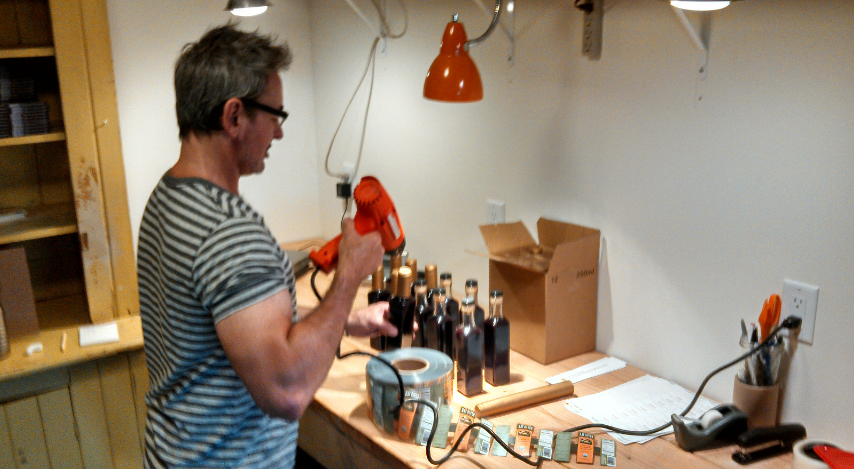 9:00am: Delivery to Bolen Vale Cheese, we pick up some 11-year-old cheddar. Weird to think the it was milk at the beginning of the Bush Administration. We love the stuff, it gets increasingly sharp and forms salt crystals (the cheese, not the administration).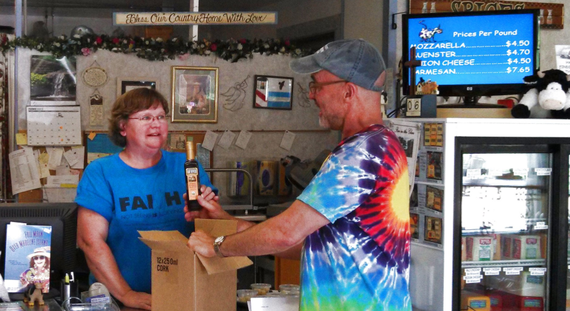 10:00am: Jay is heading to his home town, Eau Claire, WI about an hour from here to see his parents and attend the funeral of a great uncle. I'm staying home, working on the job search, and pumpkin seed paperwork. We got our initial review letter for this year's organic certification, just a few things to take care of before inspection. The U.S. consumer can have great confidence in the USDA Organic Seal. The annual inspection is an all day affair, they go through everything from the ground up, every little thing is reviewed. I think they actually just want to spend time with you to get your sense and your intentions.
4:00pm: Let's talk about sex! Pumpkins make male flowers and female flowers. Ever wonder how they could tell and what makes a flower a male anyway? What is male and female in pumpkins, people and parrots is defined by their sex cells. Females always produce large sex cells in small numbers that are a complete organism except they need just a tiny missing bit of DNA. Males produce abundant, small cells (think pollen) that provide the DNA that allows life to begin.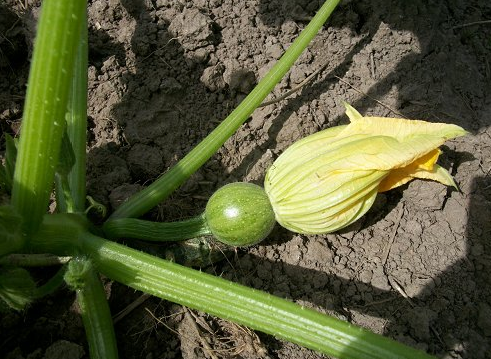 7:00pm: Our very fun and funny friends Carrie Maloney and talented photographer Mark Given, come over to take our picture in the pumpkin field. It has been years since we've had a picture together and we need one for the bio at the top of this article. It is always fun with these two, we laugh and laugh.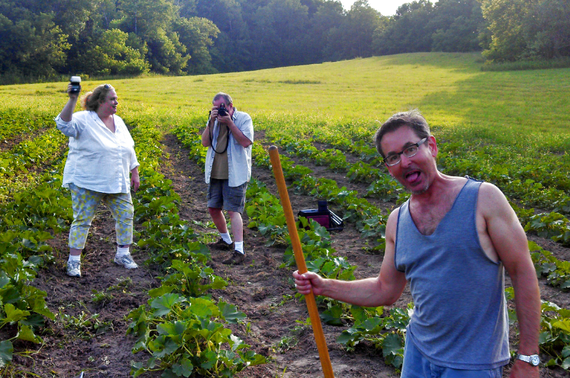 8:30pm: New Richmond, WI. We drive with Mark and Carrie to treat them to dinner at The Old Saloon. Friday night fish fry is a Wisconsin tradition and nobody does it better than The Old Saloon, light, crisp, perfectly done fish filets. As always, Shannon and owner Jill Miller take great care of us.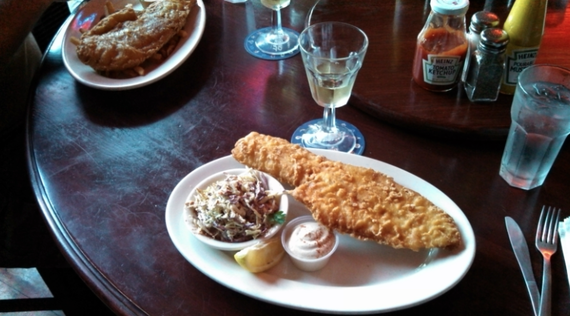 Saturday, July 13
6:00am: Up early, today is a big day, we are heading to the Twin Cities and will have a speaking gig at the Mill City Farmers' Market.
9:30am: We are at Mill City Farmers' Market and run into Brenda Langdon. She has been important in the Twin Cities organic, vegetarian and locally sourced food scene for decades. We always have a soft spot for Brenda. Our first date 18 years ago was at the former "Brenda's Café" in downtown Minneapolis. She must have started it as a Girl Scout project, we can't believe how young she looks.
10:15am: We speak. Wonderful opportunity to share about how we got started, culinary uses, health benefits and our vision for Wisconsin and pumpkin seed oil in America.
11:30am: Hubba, Hubba. Eating out AGAIN, very unusual for us and a big treat. Spoon River, right next to the farmers' market and the stunning Guthrie Theatre on the banks of the Mississippi river is Brenda Langdon's newest venture. Very successful, we had to make reservations for brunch. Buttermilk crepe with smoked salmon and skrye (we had to ask, something between sour cream and chevre cheese) and Singapore Noodle Scramble with sambal seasoning. Yup, we had wine with breakfast.
1:10pm: On the way home, we stop in at Seward Coop, for some reason they don't carry our oil so we drop off a bottle for the packaged goods grocery buyer and make a presentation to the grocery manager.
3:30pm: Yeah! We make it back home in time to meet our dates for the annual Prairie Farm Dairy Day's Parade. It is just the picture of what a small Midwestern town parade should look like. We are friends with most of the people in the parade. Community is important to us, we were so fortunate to benefit from it when our house burned to the ground a couple of years ago. A complete disaster for us but we were so well supported.
Sunday, July 14
10:00am: Today is the day we check on the bees. Jay is the beekeeper (I ended up being afraid) and things have been tough. Both hives did not survive the winter and only one of the two new hives he acquired this spring survived, then the queen went missing about a month ago. Jay purchased a new queen and today he checks to see the progress. So sad. She's gone, only a few bees left. This has been a huge problem worldwide and it is really significant. No bees, no food. We depend on them for early pollination services and hope that something else will fill in for that duty.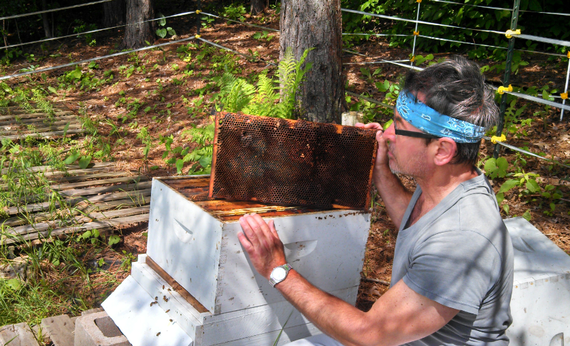 11:30am: We inspect the stupid pumpkin seed harvester. In the dictionary, right by the word CONTRAPTION, there needs to be a picture of this thing. Custom-made and we've had three major re-works, it does harvest the seeds but it is too slow for where we need to go. We are planning on purchasing European made harvesting equipment this year and equipment this year and you can help introduce America to the delicious taste and health benefits of pumpkin seed oil.
12:00pm: Okay, good, something or other is pollinating and here are two recently fertilized fruits. We'll harvest their seeds in late September.
1:00pm: We console ourselves about the bees with a lunch of Asian-flavored sugar snap peas and toast spread with pumpkin seed butter and drizzled with the last jar of our now very precious 2012 Pumpkin Blossom Honey.
See more Food Informants below:
PHOTO GALLERY
Food Informants