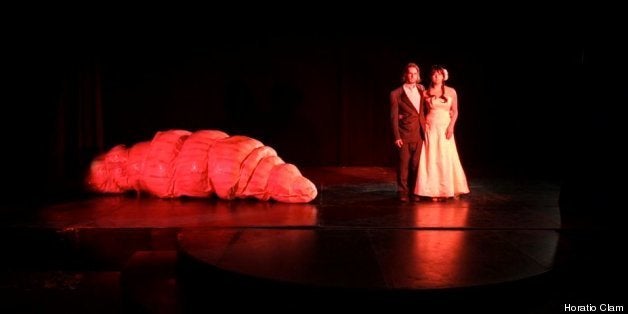 A man wanders alone through a desolate urban tundra. He comes across strange street scenes, an art opening in the dark, billboards sending messages. The Wanderer keeps moving, until he finds his bride-to-be, acting in a Western play on a church stage, waiting for him. They reunite, and enact a grotesque ritual with a giant worm.
That desolate landscape is Detroit, and the surreal finale marks the end of an apocalyptic and visually arresting new music video from Horatio Clam: a collaborative effort from Detroit musicians, filmmakers and artists.
The band (Chris Hamilton, David Rosman, Joel Gullickson and Stephen Barcus, who makes an appearance as the voice of the cowboy) released the video for "The Sun That Rises" this week along with album "Blood Meridian," heavily influenced by the Cormac McCarthy book of the same name.
"We wanted to capture the atmosphere of McCarthy's book while poking fun of the melodrama and intensity of the song," guitar and vox player Rosman told The Huffington Post in an email. "We decided a hokey, spaghetti-western play would serve that purpose."
"We wanted something to go with this feeling of the Southwest, a time of violent race relations and desolate landscapes and a kind of epic, wandering loneliness," he said.
Some of the $2,600 they raised for the film with a Kickstarter campaign (which their budget exceeded) went to constructing the giant worm, which plays a small but crucial role in the film. Puppeteer Shoshanna Utchenik worked with them to make the bamboo, canvas and foam creature.
"After brainstorming for a while, we came up with a totally ridiculous and over-the-top concept," Rosman said. "We got a lot more ambitious and uncompromising once we had a budget to work with. It was definitely a worthwhile venture, but one I will not be repeating for a long time."
Though Hurwitz-Goodman said collaborating with the visual artists and some of the crew was new, he has known Rosman and others involved on the video for a long time.
"We have an intrinsic understanding and respect for each other's sensibilities. It also means that there's a community who's willing to help pitch in and give generously of their time and effort when a big project needs to get pulled off. That was certainly the case with this video."
The production involved cinematographer Alex Hoxie, Amy Berkhoudt who was production manager and also plays "Estelle," Bill Corrigan as "The Wanderer," Jackie Rines, Jeff Nolan, North End Studios and more.
BEFORE YOU GO
PHOTO GALLERY
Best Music Videos of 2012