That deal you scored at J.C. Penney this weekend may not have been as good of a discount as you think.
Gena Stone, a former J.C. Penney employee from Virginia, and Bob Blatchford, a current employee in Florida, are alleging that the retailer marks up prices just to slash them later on in order to create the illusion of a sale, according to NBC Today.
Stone and Blatchford's comments come just a month after an undercover investigation by Cincinnati's WCPO revealed that J.C. Penney is apparently tricking customers into thinking they're scoring great deals.
Just take a look at J.C. Penney's infamous "Hitler teapot."
The teapot sold for $40 last month. But then something strange happened. As you can see in the screen grab below, the "original" price shot up to $58.00 and the "sale price" fell to $39.99.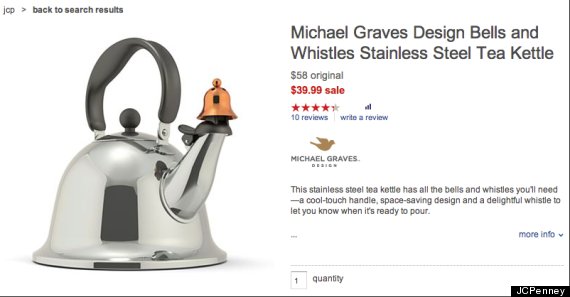 Now, the teapot retails at $58.00.
J.C. Penney told NBC Today that any items put on sale need to be "previously sold at... regular price for a reasonable period of time."
"While we understand this transition back to promotional pricing may cause some temporary confusion, the company remains committed to delivering the quality, price and value that customers expect from J.C. Penney," the retailer told NBC Today. J.C. Penney did not respond to an email request for comment from The Huffington Post.
J.C. Penney can't seem to catch a break. The allegations come just months after the company ousted its former CEO Ron Johnson, whose attempt to revive the company with his "No More Sales" campaign sunk J.C.Penney into an even deeper hole.
After Johnson's ouster, the company turned to former CEO Mike Ullman to get it back on track. Ullman brought back sales and coupons.
Priya Raghubir, a professor of marketing at New York University, told NBC Today that the pricing scheme is "widespread" across the retail industry. Just last year, a CBS investigation uncovered that Kohl's may have been engaging in the same practice, an allegation the retailer denied.
BEFORE YOU GO
PHOTO GALLERY
How To Get Your Boss Fired: Forbes