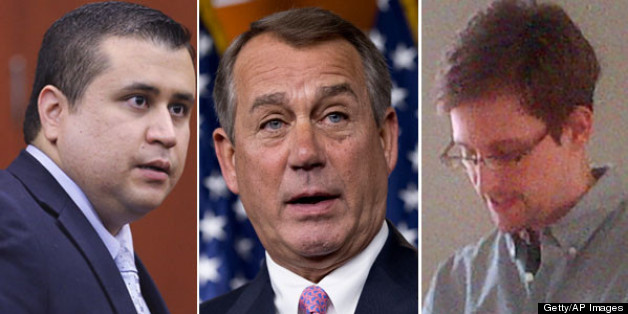 Twice as many Americans view House Speaker John Boehner (R-Ohio) negatively than view him positively, according to an NBC/WSJ poll released Wednesday. Poll respondents ranked Boehner just ahead of Edward Snowden and George Zimmerman in popularity.
Only 18 percent of Americans have a positive opinion of Boehner, while 36 percent view him negatively, the poll found. Boehner's unfavorable ratings, which stood at 29 percent last December, jumped in the aftermath of January's fiscal cliff debate.
Boehner's rating, at a net -18, puts him far behind former President George W. Bush and ahead of only Snowden and Zimmerman -- the two least popular public figures tested. NSA leaker Snowden had an 11 percent favorable rating and a 35 percent unfavorable rating, while Zimmerman, who was acquitted in the death of Trayvon Martin, had a 14 percent favorable rating and a 39 percent unfavorable rating.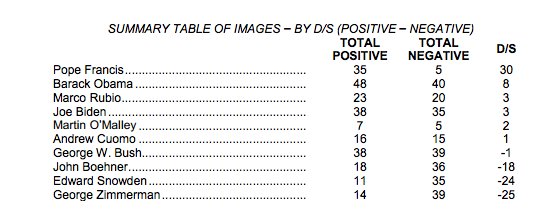 (Chart: NBC News)
Congress as a whole boasts a dismal average 12 percent approval rating, and its leaders in both parties rarely fare well in polls. A January NBC/WSJ survey found top Democrats doing just slightly better than top Republicans: House Minority Leader Nancy Pelosi had a net -11 favorable rating (26 percent positive to 37 percent negative), while Senate Majority Leader Harry Reid had a net -12 rating (16 percent positive to 28 percent negative). In the most recent poll, voters were evenly split between preferring a Republican-controlled Congress or a Democratic-controlled one.
But many assign the GOP more blame for partisan gridlock. Two-thirds of Americans polled in the NBC/WSJ survey said the Republican Party is emphasizing a partisan approach over unifying the country, compared to 55 percent who said the same of Democrats, and 48 percent who said the same of President Barack Obama. Fifty-six percent said Republicans are too inflexible in dealing with the president.
The poll surveyed 1,000 Americans by phone between July 17 and July 21.
BEFORE YOU GO
PHOTO GALLERY
John Boehner Cries