 The world was overjoyed on Monday afternoon, when a lady had a baby. The media reported on reporting on the royal birth, and the public was quick to forget about another lady who had a baby just hours before Father's Day. As the briefly nameless prince usurped little North West's spotlight, we decided to take a look at just how notable these two tiny people are.
The Cut crunched some numbers, comparing the royal baby, North West, and some other pedestrian babies as a means of quantifying "the magnitude of this new infant's fame." They found the following results:
Google Hits in 24 Hours Following News of Birth

• Kate Middleton Baby: 139,000,000

• Kim Kardashian Baby: 130,000

• "Royal Mint" "Silver Coin" Babies: 588
By the look of that data, Kate Middleton's baby is, mathematically speaking, way more super-famous than Kim Kardashian's baby. Of course, there are regional considerations to take into account, as a much larger portion of the globe is invested in the historied royals.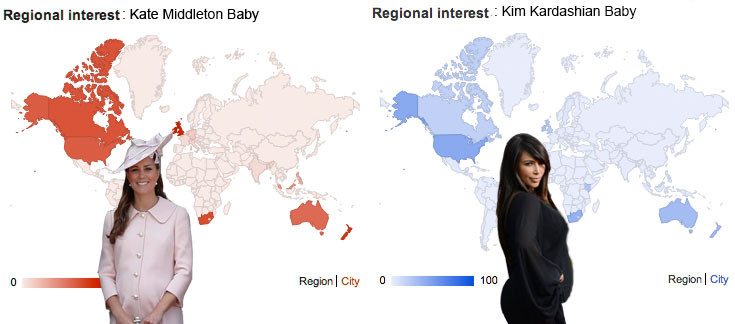 Yet, the interest in "Kate Middleton baby" versus "Kim Kardashian baby" is more nuanced than the apparent investment of Canadians and Scandinavians.
We took some measures of our own, comparing the search, instead, for the name of each baby -- both of which were highly anticipated. We found, overall, significantly greater interest in "Kim Kardashian Baby Name" as compared to "Royal Baby Name," and a search compared to "Kate Middleton Baby Name" yielded even fewer searches, and a greater disparity.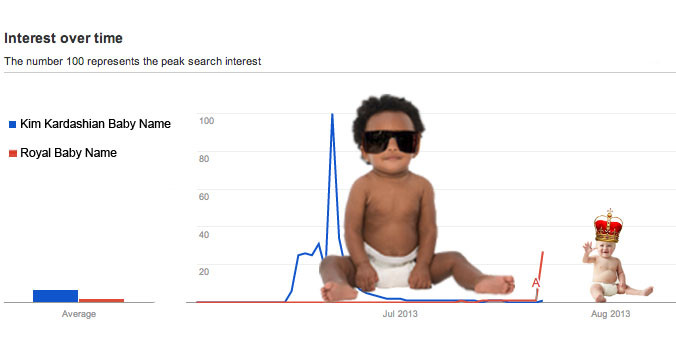 This is particularly interesting, considering the fact that the royal baby's name was not announced until Wednesday afternoon, nearly 48 hours after his birth, and consequently the subject of quite a bit of speculation (and betting).
There was also a significant difference between the terms for "Kim Kardashian Baby Gender" as compared to "Royal Baby Gender," in which approximately 50 percent more searches for the former were conducted.
By some measurements (number of headlines, amount of collectible merchandise), the royal baby seems to be more notable than North West, but we'll have to wait until we finally catch a glimpse of Kimye's princess, before we can officially declare one of these babies the Most Famous Infant Of All Time.
BEFORE YOU GO
PHOTO GALLERY
Before/After Pregnant Stars