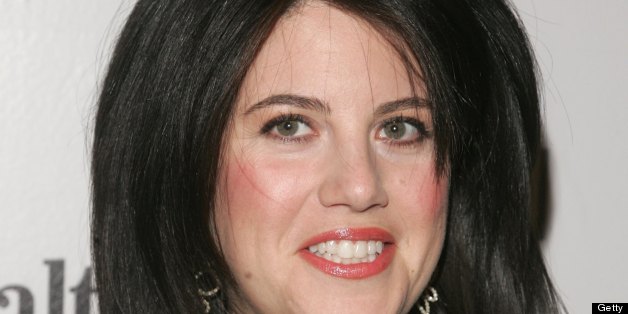 Three things happened this week that, while continents apart, feel inexplicably intertwined:
Monica Lewinsky turned 40.
There was a TV split screen shot of Kate Middleton with her new baby on one side and a 1982 photo of Princess Diana with her new baby on the other.
And my 15.5-year-old daughter Sophie got her learner's permit to drive.
Let's start with Monica, the world's most-famous Washington intern who nearly brought down a president. My closest real-time brush with Monica Lewinsky came years after the impeachment noise quieted down and I got stuck in a traffic jam she caused. She accidentally flipped her black SUV over on a Los Angeles freeway, causing a massive traffic snarl that delayed me from getting to a big sale. I suspect she was headed there too.
At the time it happened, Monica's 15 minutes of fame had long passed but she was trying mightily to eek out a 16th minute. It occurred to me for a split second that the accident was just another cry for attention.
After her Washington exploits, she went on to write a book, design some handbags, tell Barbara Walters she was sorry for everything, and then lost a bunch of weight on Jenny Craig which qualified her to become a diet spokeswoman. She also briefly hosted a Fox reality show in 2003 where she encouraged contestants to pick a boyfriend based on personality, not looks and offered up 20 masked men. The show was called "Mr Personality." I kid you not.
Now that she's 40, Monica says she would prefer to live outside the limelight. She says this, of course, through her publicist.
I admit I have a hard time being nice about Monica, even after all these years. Monica almost brought down my favorite president. I even remember where I was when I first heard the news of the scandal. My blood chilled when I heard Clinton say he "didn't have sex with that woman." I hated my president's failings, but I hated her more for exposing them.
But Monica has had a milestone birthday and I want to use that occasion to move on from disliking her. Life is about forgiveness. For her sake, I hope she gets to move into her middle years without forever being branded "that" anything, including that intern.
And a new life came into the world on the same week of Monica's birth. With the world cooing at the new royal baby, TV stations showed the Duchess of Cambridge -- Kate Middleton, as we prefer to call her -- showing off her new infant to the the cameras on one side of the screen; on the other side of the screen, we saw a 1982 photo of the now-deceased Princess Diana bringing home her own new infant -- Prince William, the new baby's father. Symmetry aside, it was a tug at the heart strings moment.
I'm not a royals watcher, but seeing Diana's blushing cheeks as she stood next to her stiff-lipped husband, Prince Charles, and knowing what tragedies lie ahead for her made me sad. I was on a road trip with my husband when Diana's car crashed in a Paris tunnel and I remember how I sat glued to our finicky hotel TV, weeping for the world's and her sons' loss.
I know that it was not unintentional for the new royal baby's debut to mirror the 1982 iconic photo op moment. Heart string tugs are manipulated events these days. Let's just hope that this chapter of the fairy tale has a happier ending.
And lastly, my daughter also reached a milestone this week. She passed her written driver's test and was handed legal permission by the state of California to get behind the wheel of a car. With her learner's permit, Sophie can learn to drive. Drive, as in move the car to places beyond our driveway and beyond where I can see her and protect her. Join the other 22.6 million drivers on California roadways and hopefully not become one of those teen statistics. But this isn't about her (yes Sweetie, I'm happy for you -- and proud of you too!). This is about me.
Driving is probably the biggest step into independence and adulthood a child can make. She may be ready for it, but I'm pretty sure I'm not. I admit: This milestone event crept up on me by surprise. I'm smarting, stung by being caught unaware. Wasn't it just yesterday that she waved goodbye to me and walked into kindergarten by herself? What's next? That she will develop a circle of friends who matter to her as much as her family does, go off to college, find her passion, her true love and start a family of her own? Actually, those things all will happen next and I'm just not ready.
Soph, how about we both pretend that Mom's tears today are just of happiness? And thank you in advance for never becoming a White House intern because we've seen how even the best of men can sometimes behave badly. As for Kate, my advice is to hang on to these precious first moments because they fly by before you know it.
BEFORE YOU GO
PHOTO GALLERY
Milestones Through the Years