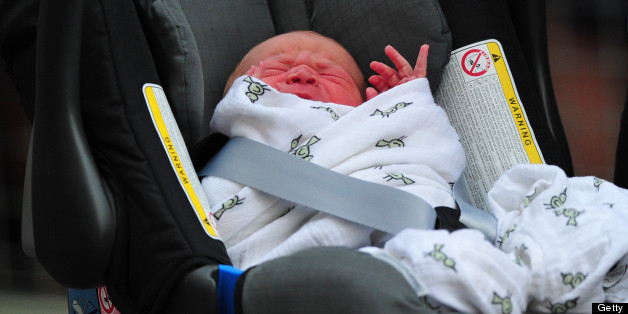 On July 23rd, the Duke and Duchess of Cambridge introduced their baby boy, George Alexander Louis, to the world. The newborn was sporting an aden + anais swaddle -- an item that is now sold out on the company's website.
His bird-print, cotton swaddle was one of four in the company's "jungle jam" set. Founder Raegen Moya-Jones told the Telegraph that she was honored by the new parents' selection. "We are truly grateful and so delighted that the couple chose to debut the prince in aden + anais," she said.
It looks like Kate and Will are doing a great job so far -- swaddling is known to be highly beneficial for babies. Dr. Harvey Karp, pediatrician and author of "The Happiest Baby on the Block," includes swaddling in his system that calms crying babies. The practice "provides the continuous touching and support your baby is used to experiencing within the womb," he explains. In a HuffPost blog, Dr. Karp lists other life-saving benefits of swaddling. He wrote:
When done correctly safe swaddling offers the potential to:

• Reduce the lure of placing babies on the stomach. (Swaddled babies sleep just as well on the back as unwrapped babies sleep on the stomach.)

• Reduce the chance of falling asleep with the baby on a dangerous surface. (Exhaustion causes similar brain numbness as being drunk. No wonder tired parents can put an arm over their baby's face without even realizing it.)

• Reduce the chance of rolling into a dangerous position (into a pillow, against a wall or onto the stomach).
There is no research to date as to how the cuteness of a swaddle's pattern affects baby, but we do hope every new parent who snagged the bird design sees it work some royal magic.

BEFORE YOU GO
PHOTO GALLERY
William and Kate announce their new son