Depending on your point of view, self-assembling robots sound cool -- or like something from a high-tech dystopian future. Either way, a new video from ETH Zürich's Institute for Dynamic Systems and Control in Switzerland shows that such autonomous bots are coming.

Just watch the video above -- it shows 3D-printed hexagonal rotors that are able to join together without human intervention and fly as one unit.
Raymond Oung, the project's lead researcher, uploaded the popular video to YouTube in June. He wrote in the video's description: "The Distributed Flight Array is a modular robotic vehicle consisting of multiple autonomous single-rotor units that are able to drive, dock with its peers, and coordinate with one another in order to drive and fly together."
He added that at least four rotors are needed to achieve stable flight, and future research consists of in-flight reconfiguration. After all, each of those hexagonal vehicles is basically a self-contained module with sensors that assist in aligning and docking.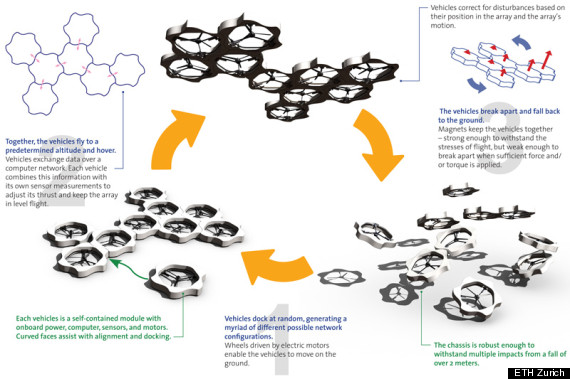 "This is like the aliens in the movie 'Battle: Los Angeles,'" YouTube user Michael Boris commented on the video.
BEFORE YOU GO
PHOTO GALLERY
Creepiest Android/Robot Videos