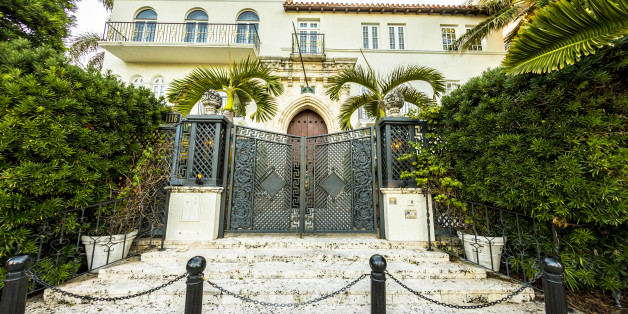 All eyes are on Gianni Versace's former mansion in South Beach, one of the most expensive properties currently on the market. It was there that the Italian fashion designer was gunned down by a spree killer in 1997, and where he once entertained Princess Diana and Madonna.
The three-story villa is an opulent and private oasis in the heart of South Beach. When Versace bought the place over 20 years ago, the Miami Beach neighborhood was nothing but a smattering of fledgling clubs and modeling agencies as well as the home to an aging population of snowbirds.
"All of a sudden, what was going on in L.A. moved here when Gianni came here,'' his sister Donatella told the New York Times in 2001, sitting in the stone grotto dining room while visiting the house for the last time. ''All the fashion shoots were happening here. Music people, fashion people, actors -- he attracted everyone here. He had that power. In the courtyard, right here, you'd see Italian architects, writers, Richard Avedon, Madonna, a mix of people."
After Versace's death, the house was converted to a private invitation-only membership club with fees of $50,000 and then used as an event space and hotel.
When it's auctioned off September 17, will the mansion remain an event space or return to a private castle of gilded toilets and ornate suites? Realtors say interest has come from international buyers, but it could also be scooped up and run as a boutique hotel.
Here are some of the more interesting facts about the Versace mansion: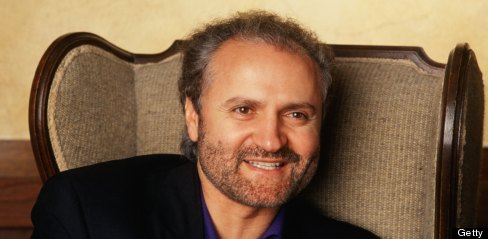 1. The 23,000-square-foot mansion has 10 bedrooms, 11 bathrooms, and a 54-foot-long mosaic pool lined with 24-karat gold.
2. It is the only private residence on busy Ocean Drive.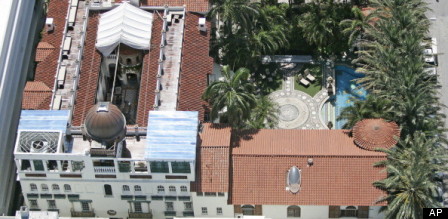 3. Originally listed at $125 million, the house will be auctioned off on September 17 with a starting bid of $25 million. Bidders must prove $40 million in funds.
4. Versace bought the 1930s Casa Casuarina (AKA the Amsterdam Palace) in 1992 for $2.9 million as well as an art deco hotel, The Revere, next door for $4 million.
5. Preservationists fought to save the Revere Hotel, which was built in 1950, two years after the cut off for Art Deco preservation. The Revere was one of the first hotels to have air conditioning.
6. The Revere was also the first art deco hotel to be demolished for the sake of South Beach development.
7. Versace spent $33 million in renovations, then threw some fabulous parties. 8. Here's the master bedroom when Versace lived there; the room now houses a very large double-king-sized bed: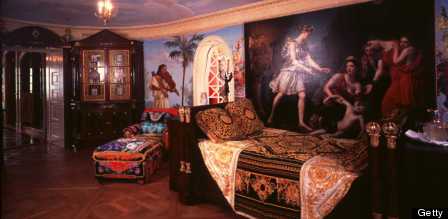 9. Two years after Versace's murder, the mansion was purchased for $19 million unfurnished. New owner Peter Loftin also bought some of Versace's large furniture and headboards that the family auctioned off after his death; they remain in the house.
10. Versace reportedly had the pool made in Italy, broken down in sections, and mailed to U.S. where it was put together by a team of 75. 11. It has over a 100 million Italian mosaic tiles, and the design is shared with a scarf in Versace's South Beach Collection.
12. Versace brought in the poolside statues from a 16-century chateau in France.
13. The poolside rotunda's floor is rumored to contain a cryptic code.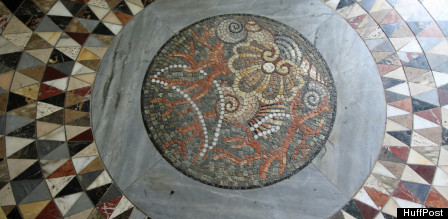 14. One of the bedrooms, the Parrot Suite, was designed for his niece, Allegra, who was reportedly obsessed with the birds.
15. Madonna's favorite suite to stay in was designed for Donatella. It features the only bathtub in the house as Versace's sister reportedly did not like to take showers.
16. The house has a $10,000 marble toilet, one of only three in the world. It was installed by the 2000 owner, Loftin. 17. Bruce Weber shot the house and the Versaces for a 1993 "Vogue" shoot. "The scale and magnificence [of the house] were almost comical," editor Hamish Bowles remembers. "We photographed Donatella, in heels and a pencil skirt, her fingers a-glitter with countless flawless carats, cooking spaghetti—and executing a masterful tae kwon do move with her trainer and her children. Then Gianni brought out the Commedia dell Arte ballgown he had designed for his young niece Allegra, and he lovingly fluffed it up and showed her how to hold the fan just so."
18. Versace once told "Time" magazine about his dreams for the Miami home: "For reading Proust I have my house on Lake Como. Here, in Miami Beach, I don't want another monastery to live in. I want a place to read Truman Capote."
He employed a full-time librarian, who organized his five libraries.
19. "Miami's a place where you can be yourself without running; you know in Milan you have to run every day. Miami's cool," Versace said in a TV interview. "Simple, beautiful, the weather is fantastic; you don't have to, really run anyplace. I wake up and I work. I'm very serene here.''
20. In 1997, at 9 a.m., spree killer Andrew Cunanan shot Versace point blank in the back of the head as Versace returned home from buying magazines at nearby News Cafe. Cunanan later committed suicide on a houseboat as police were closing in.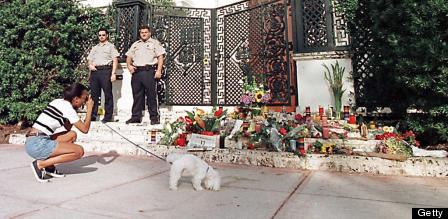 Check out photos of the Versace mansion then and now:
PHOTO GALLERY
Versace Mansion
BEFORE YOU GO