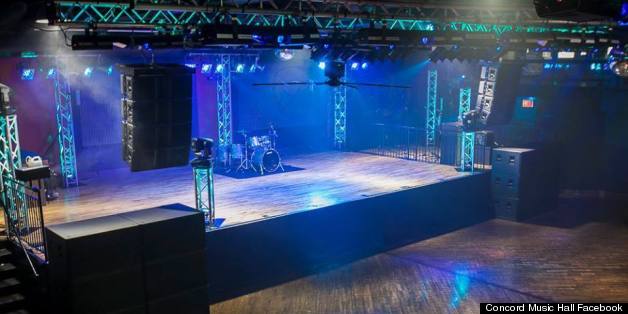 With the Congress Theater still out of commission until at least October, Logan Square and Wicker Park residents can instead look to the area's newest venue, Concord Music Hall, for their live music-listening needs.
Opening Aug. 1 with a show headlined by Adam Ant, Concord will be taking over the space currently occupied by the club VLive at 2047 N. Milwaukee Ave. (just spitting distance from the embattled Congress). Other acts coming soon include Jimmy Cliff, The Misfits and Less Than Jake.
According to the venue's website, Concord is the collective efforts of the Chicago promoters behind Riot Fest, Silver Wrapper, and React Presents, otherwise known as the minds behind North Coast Music Festival, Spring Awakening Fest and the hotly-anticipated Riot Fest.
With a capacity that can range from 700 to 1,600 (depending on whether balconies are open), Time Out Chicago reports the space's 20,000 square feet include two levels and five bars.
The Tribune's Greg Kot, who was first with the scoop on the story, said Concord's owners are counting on the venue's location to help them succeed in a city already packed with similarly-sized venues.
"We felt that given the location and the room capacity that it was a very attractive thing for all of us," said co-owner Lucas King of React Presents. "I don't know if there is a gap (in the market). It's all about the neighborhood for us."
In its first blog post, Concord owners promise to bring in artists from "all spectrums of music, from punk to electronic, indie to hip-hop, funk to metal, jazz to jam bands, and everything in between."
The official opening slated for Aug. 17 features Gogol Bordello, a band previously bounced from the Congress after it was shut down by the city.
According to the freshly-announced listings, Concord will host several North Coast and Riot Fest after shows.
BEFORE YOU GO
PHOTO GALLERY
Best Venues In America According To Rolling Stone