Well, no wonder defense contractors aren't faring too badly during sequestration, when they've got ideas like this.
Gigantic blimps. Over Washington. In the air for up to 30 days at a time, protecting the city from missiles, among other things.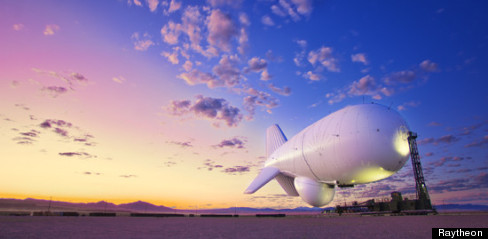 Raytheon recently announced that, following a successful test of its big blimp-oriented anti-missile Joint Land Attack Cruise Missile Defense Elevated Netted Sensor System, or JLENS -- marketed on the Raytheon website as an "AFFORDABLE DEFENSE FROM REAL WORLD THREATS" -- the company will deploy two 242-foot helium-filled "aerostats" to the nation's capital.
Next fall, the blimps are due to be stationed 10,000 feet in the air over Maryland's Aberdeen Proving Ground, where -- again, from the Raytheon website -- the "powerful radars that can look deep into enemy territory...will begin a long-term trial watching over Washington, D.C."
Story continues below...
PHOTO GALLERY
Giant Blimps Over D.C.
Were you worried about the NSA monitoring your daily activities? From Popular Science, here's what the two blimps will be looking at in and around D.C.:
One blimp carries a 360-degree surveillance radar to scan for threats as they emerge on the horizon. The second blimp carries a fire-control radar, which uses a narrow-focused radar, fired more frequently, to track a target as it moves.

Together, the two radar-equipped blimps can detect and track airplanes, drones, boats, and missiles, as well as ground targets like cars or tanks. In earlier testing, JLENS successfully guided a missile to shoot down another missile, including once over land in April 2012 and once over sea in September 2012.
On the tech blog Gizmodo, Adam Clark Estes wrote that "it's hard to see the downside in the arrangement" -- at least until the blimps are actually in Washington's airspace:
When all said and done, the Defense Department will be spending up to 700 percent less on the JLENS system than on spy planes, and will ostensibly get better protection. And who knows? They might be able to pitch in some aerial photography for Redskins games.
The Electronic Privacy Information Center's executive director Marc Rotenberg, who teaches information privacy law at Georgetown University Law Center, has less trouble seeing potential downsides.
"When the government is conducting real-time aerial surveillance within the United States" Rotenberg told The Huffington Post, "there are privacy issues that need to be addressed."
About a year ago, D.C. went a little wild when a drone on the Beltway was mistaken for a flying saucer. Think Washington will have UFO fever again once the blimps go up?
BEFORE YOU GO
PHOTO GALLERY
UFO Encounters