When McDonald's CEO Don Thompson said Wednesday that his company has "always been an above-minimum wage employer," he pointed out to Bloomberg Television's Betty Liu that 40 percent of McDonald's executives started as hourly employees. McDonald's, he argued, is one of the premier employers for entry-level workers searching for meaningful careers.
"We're about providing opportunity," Thompson said. "When we can help people to be able to have viable income, we're going to continue to do that and we are going to provide opportunities so that a person can rise through the system and gain greater and greater wealth."
But according to a new study by the National Employment Law Project, the opportunity in the fast-food industry for a burger flipper or cashier to rise up the corporate ladder remains exceptionally rare. Less then 2 percent of fast-food industry jobs belong to the executives cited by Thompson, while more than 89 percent of all jobs in the fast-food industry belong to cooks, cashiers, delivery workers and other non-managerial workers, the NELP study found.
Those grim statistics run in stark opposition to national trends. In contrast to the fast-food industry, when looking at the economy as a whole, the proportion of low-level jobs to mid- and upper-management positions is much more balanced. Throughout U.S. industries, more than 31 percent of occupations are made up of jobs above entry-level -- such as managerial, professional and technical positions.
See how the fast-food industry fares compared to all industries in the below chart: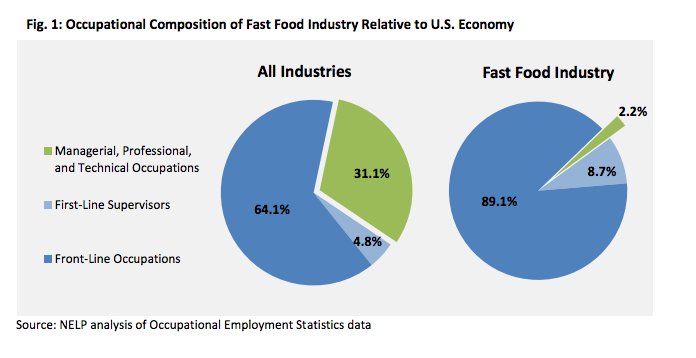 Fast-food giants like McDonald's and Yum! Brands, the operator of Taco Bell and KFC, are among the nation's largest low-wage employers, according to NELP.
Front-line fast-food jobs -- which include cooks, cashiers, delivery workers and other non-managerial positions -- pay a median hourly wage of $8.94 per hour, and the workers stay in these positions for years at a time with no opportunity for advancement, Jack Temple, a NELP policy analyst and author of the study, wrote in an email to The Huffington Post.
The report also spells out the many obstacles entry-level employees face in becoming franchise owners. At McDonald's, there is only one franchise owner per 293 employees. Taco Bell and KFC require their franchise owners to have a net worth of $1.5 million and liquid assets totaling up to $750,000.
Neither McDonald's nor Yum! Brands responded to a request for comment.
BEFORE YOU GO
PHOTO GALLERY
What Minimum Wage Haters Won't Say