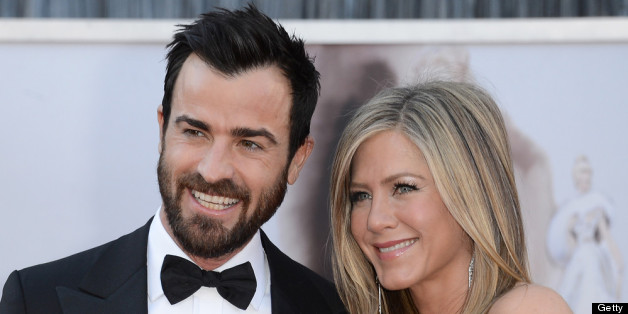 When there isn't speculation on whether Jennifer Aniston is pregnant, there are constant rumors on the state of her engagement to Justin Theroux.
Hot on the heels of reports that the couple decided to put their wedding on hold, come new claims that those reports couldn't be further from the truth.
An unnamed source has revealed to Us Weekly that Aniston, 44, and Theroux, 41, are still "madly in love" and "can't get enough of their time together." The source insists that, despite what you might have heard, their wedding is definitely still on.
Aniston is currently filming "Squirrels to the Nuts" in New York, and Theroux is reportedly a frequent visitor on set -- which does throw a wrench in other reports that they'd broken off the relationship entirely.
Another source also told Us Weekly that while the wedding is still on, it just isn't their first priority right now -- they're choosing instead to focus on their careers and the renovations to their $21 million Bel Air mansion.
Never a dull moment when it comes to scrutinizing Aniston's love life, there's also the (very flimsy) rumor that the former "Friends" star and Theroux have already tied the knot.
BEFORE YOU GO
PHOTO GALLERY
Jennifer Aniston