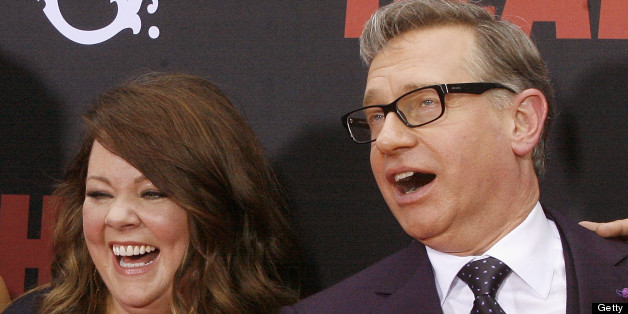 Before "The Heat" arrived in theaters on June 28, director Paul Feig told HuffPost Entertainment that he was hoping to get "other franchises" going beyond the not-happening "Bridesmaids 2." With Sandra Bullock tossing cold water on "The Heat 2" ("I know they say never say never, but right now, I can't imagine it," Bullock told EW.com), that might leave Feig's female spy feature, "Susan Cooper," as his best option. To that end: TheWrap reports Melissa McCarthy is in early talks to star in the film, which would be her third collaboration with Feig in the last four years, following "Bridesmaids" and "The Heat."
Back in June, Feig talked about "Susan Cooper" with Coming Soon. "I'm still figuring out cast-wise who we're gonna go with," he said about who might star in the film, which has been described as a female James Bond. "I have ideas of what I want, but yeah, I don't want to define it until it is defined by an actual person. But they'll be funny!"
That Feig would reunite with McCarthy is far from surprising. In addition to "The Heat" and "Bridesmaids," Feig also wrote the comedy "Dumb Jock" with McCarthy in mind. The actress would have starred with Jon Hamm in that film.
For more on "Susan Cooper," visit TheWrap.
[via TheWrap]
PHOTO GALLERY
'The Heat' With Sandra Bullock & Melissa McCarthy