The New York Post attacked Huma Abedin, the wife of New York City mayoral candidate Anthony Weiner, on its Thursday cover.
Earlier this week, new details surfaced about Weiner continuously sending sexually explicit messages to women on the Internet, even after he resigned from Congress and sat for a redemptive People magazine spread with his wife and newborn son.
To make matters even more ridiculous, Weiner reportedly used the alias Carlos Danger online. The name has been mocked everywhere and the Post ran a lackluster cover on Tuesday with the headline, "MEET CARLOS DANGER."
On Wednesday, the Post seemed to step up its game from the day before, hitting a chord that the Associated Press and the New York Times had reported on as well -- how Abedin's loyalty to her husband has confused many New Yorkers. The Post, of course, was far more blunt. Take a look at the cover below.
PHOTO: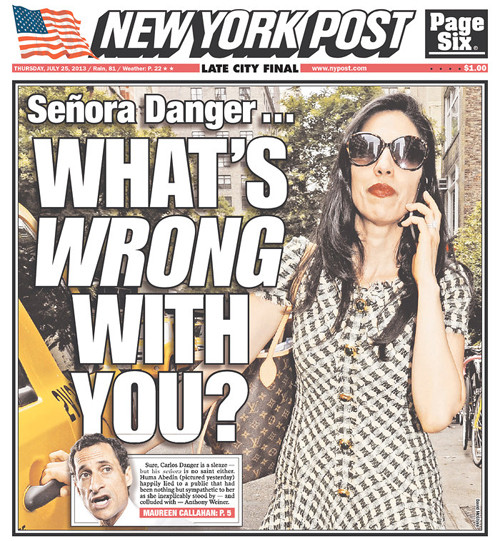 BEFORE YOU GO
PHOTO GALLERY
Huma Abedin Through The Years