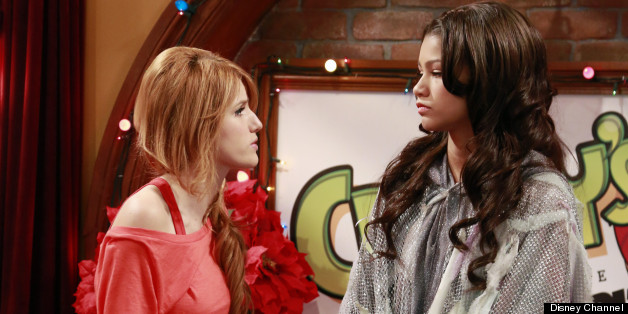 Disney Channel has canceled "Shake It Up," the hit series starring Bella Thorne and Zendaya as professional teen dancers on a local TV show.
Deadline was first to report the news that the original series will end after its current third season, with the final round of "Shake It Up" episodes set to air this summer and fall. A rep for Disney Channel confirmed the news to The Huffington Post.
"Shake It Up," which debuted in 2010 to an impressive average of 6.2 million viewers, revolves around unlikely best friends -- the ditzy CeCe Jones (Thorne) and the overachieving Rocky Blue (Zendaya) -- who star on their local TV dance program "Shake It Up, Chicago!" Along with Rocky's brother, Ty (Roshon Fegan); his best friend, Deuce Martinez (Adam Irigoyen); CeCe's little brother, Flynn (Davis Cleveland); and CeCe and Rocky's co-stars Gunther and Tinka (Kenton Duty and Caroline Sunshine), the two get themselves into and out of plenty of misadventures.
Though "Shake It Up" fans might be surprised by the cancellation -- considering it is the No. 1 series among children 6-11 and 9-14 -- Disney Channel tends to put an end to its original series after a certain amount of time. For example, last month, it was announced that "Good Luck Charlie" would be ending after its four seasons (100 episodes) and a TV movie, despite its continued success.
But it's not all bad news for fans of the stars of "Shake It Up": Zendaya, who was the runner-up on the most recent season of "Dancing With The Stars," is signing on to star in a Disney Channel original movie based on the book "Boys Are Dogs." The 16-year-old actress also recently released her first solo single, "Replay" and her debut album with Hollywood Records is set to drop in September. As for 15-year-old Thorne, the actress also has a Hollywood Records deal, a three-book deal with Random House, and it was just announced that she will star the indie thriller "Home Invasion."
For more on "Shake It Up's" cancellation, click over to Deadline.
"Shake It Up" airs Sundays at 9 p.m. ET on Disney Channel.
BEFORE YOU GO
PHOTO GALLERY
2013 Renewal Index: Canceled, Renewed & On The Bubble Shows