 A new poll shows the new Weiner revelations having a predictable impact. We ask Marist's Lee Miringoff about the potential pitfalls of one-night tracking polls. And we have a new name. Wait for it...This is HuffPollster for Thursday, July 25, 2013.
WEINER'S NUMBERS ENTER THE DANGER ZONE HuffPost: "Anthony Weiner's reputation and his standing in the New York City mayoral primary have both plummeted, according to the first poll taken since Weiner admitted Wednesday that his online sexual misdeeds continued past his 2011 resignation from Congress. Weiner's negatives are at an all-time high: Just 30 percent of registered New York Democrats now view him favorably, while 55 percent have an unfavorable impression, an overnight NBC 4 New York/Wall Street Journal/Marist poll found. The figures are a dramatic flip from June, when 52 percent rated him favorably in another poll. Christine Quinn now leads the primary field with 25 percent, followed by Weiner at 16 percent, and Bill de Blasio and Bill Thompson both at 14 percent. The last NBC/WSJ/Marist poll, taken in late June, had Weiner 5 points ahead of Quinn, 25 percent to 20 percent." [HuffPost]
Rise of other 'anti-Quinn' candidates - The Guardian's Harry Enten: the bigger obstacle for Weiner actually has nothing to do with him. It involves the other anti-Quinn candidates. Remember, Quinn is disliked by a substantial portion of the Democratic primary electorate. The anti-Quinn vote is looking for someone, really anyone, who can beat her. That has been Anthony Weiner, thanks to his high name-recognition. The latest polling, even pre-scandal, shows that other non-Quinn candidates have been moving up. Bill Thompson, with a strong African-American base, hit 20% in a Quinnipiac poll among likely voters just before the "Danger saga". Marist just placed him at 14% among registered voters. Both of these are the highest numbers he has scored in these polls since Weiner got in the race. Bill de Blasio doesn't have the same ethnic base, but progressives love him. He has put up a 14% and 15%, respectively, in the last two polls – also his highest to date with these pollsters. [Guardian]
PERIL IN ONE NIGHT POLLS? - Pollsters are forced to compromise when they complete a poll in just one night to get a first reaction to breaking news. Most telephone polls try at least three to four times over at least as many days to reach sampled households, in the theory that those easiest to reach -- who are home on the first call -- may be different than those who for whatever reason are unavailable to take the call. For that reason, the National Council on Public Polls (NCPP) has long recommended that reports of one-night polls "mention the likelihood of increased errors because of their much lower response rates." [NCPP]
Skepticism via Twitter - Political scientist & PublicMind pollster Dan Cassino: "[Likely voter] model based on one weeknight of calls? I need to get to the store for more salt." [@DanCassino]
Marist's pollster responds - HuffPollster reached out for comment to Lee Miringoff, director of the Marist Institute for Public Opinion, who responded via email: "In the life of the 24/7 news cycle, it's a challenge to keep up with breaking news particularly if you're a pollster. At the Marist Poll, we try our best to maintain the best science and rigor of our survey methods and still keep pace with events. So what's the same and what's different about doing an overnight poll?"
"Most of how we conduct the poll is the same:
How the questionnaire is written
The language(s) in which the questionnaire is translated and administered
The sampling frames of landline and cell phones
How the sample is selected
How individuals are selected in the household to participate
Interviews are conducted by live interviewers
How the interviewers are trained in survey interviewing and briefed on the specific survey before fielding
The monitoring and supervising of the interviewers during field
How the data is collected using CATI, computer assisted telephone interviewing
The sample size
How the results are balanced to population parameters, processed, modeled, and analyzed."
"The major difference is in the limited number of callbacks that may be made within a short field period. Although we do callbacks at different points of the field day, a respondent needs to be available at some point on the one day of the survey in order to participate."
"The net effect is that the demography of the sample of this overnight poll closely resembles the multi-day surveys we have done in NYC. The exception is that overnight polls can undercount harder to reach populations. Cell phones are minimizing these differences. "
"One-night polls are a common tool of campaign pollsters to track elections, but often with small samples. Yet, they provide a barometer of what the public is thinking which is valuable to campaign strategy. "
"The pundits will characterize public reaction to changing campaign events with or without public polls. One-night public polls conducted with scientific rigor provide real data and are valuable to understand what the public is actually thinking."
A very big change - Two theories may explain how such a one-night poll might be misleading. The first is that, because it would over-represent those who happened to be at home on Wednesday night it might also overstate those who had watched news reports about the Weiner controversy. Another competing theory says that even if the sampling is unbiased, the reality of voter opinions may unsettled and subject to further change as the Weiner controversy is the subject of further coverage and punditry. In other words, we can conjure explanations for why the one-night polls may overstate the erosion in Weiner's support, or understate it. But either way, the 22 percentage point decline in Weiner's favorable rating (from 52 to 30 percent) and corresponding 19-point increase in his unfavorable rating (from 36 to 55 percent) appear far too large to be the artifact of the limited number of call-backs in a one-night poll.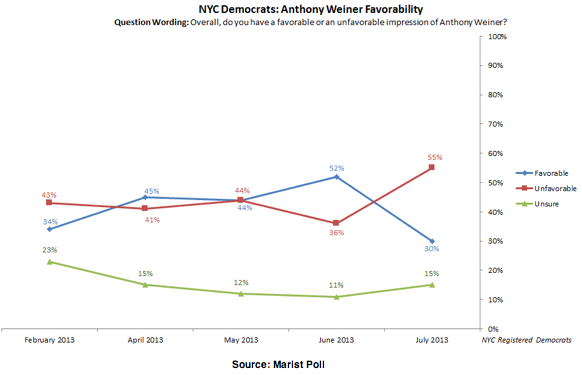 Where does vote preference stand? - The potential for a one-night poll to provide a misleading snapshot of voter preferences in the Mayor's race is greater, however, if only because the current race is so close, with just 11 percentage points separating the top four candidates in the Marist poll and 15 percent totally undecided. Add to that the inherent difficulty of accurately sampling true likely voters in a low-turnout primary, and you get a lot of seemingly contradictory horse race results from different polls. Consider that although the result reported today represents a nine-point decline in support for Weiner since the last Marist poll in June, the candidate support numbers are virtually identical to a New York Times/Siena College poll conducted more than a week ago. [NYTimes/Siena poll]
CONTRADICTORY RESULTS FOR COMPTROLLER - The inconsistency in candidate preference numbers is in evidence in another New York City poll conducted by Quinnipiac University. On the race for City Comptroller, Quinnipiac's poll of 507 likely voters finds former Governor Eliot Spitzer with a narrow 4 percentage point edge (49 to 45 percent) over Borough President Scott Stringer. The one night NBC 4/WSJ/Marist poll gave Spitzer virtually the same percentage of the vote among likely voters (48 percent), but also a 12 point lead over Stringer (48 to 36 percent). [Marist]
WELCOME TO "HUFFPOLLSTER" - Starting today we're going to drop the name "Pollster Update" in favor of the shorter, catchier "HuffPollster."
AND WE'RE OFF TOMORROW - The office of HuffPost's D.C. Bureau is moving to a new location tomorrow, so rather than trying to fight the chaos, we're going to let "HuffPollster" take a 3-day weekend. See you on Monday!
THURSDAY'S 'OUTLIERS' - Links to more news at the intersection of polling, politics and political data:
-A majority of Americans favor restrictions on abortions after 20 weeks of pregnancy rather than 24. [WaPost, ABC News]
-African Americans and Hispanics report higher life satisfaction than in 2009. [Gallup]
-Bruce Stokes notes a gender gap in global public opinion on drone strikes. [Pew Research]
-Harry Enten sees a path for the GOP to do even better with white voters than in 2012. [Guardian]
-Drew Desilver reviews five measures of the "real world" economic blahs. [Pew Research]
-Alan Abramowitz has yet more on "missing voters" in the 2012 election. [Crystal Ball]
-Frank Newport charts the the 83 point net shift in attitudes on interracial marriage since 1959. [Gallup]
-A new Census tool provides interactive data on every Congressional District. [Census Bureau], h/t WaPost]
-Adam Bonica releases a database that derives the ideology of "political elites, interest groups and donors" using campaign contribution records. [Stanford.edu via @KWCollins, @BrendanNyhan]
HUFFPOLLSTER VIA EMAIL! - You can receive this daily update every weekday via email! Just enter your email address in the box on the upper right corner of this page, and click "sign up." That's all there is to it (and you can unsubscribe anytime).