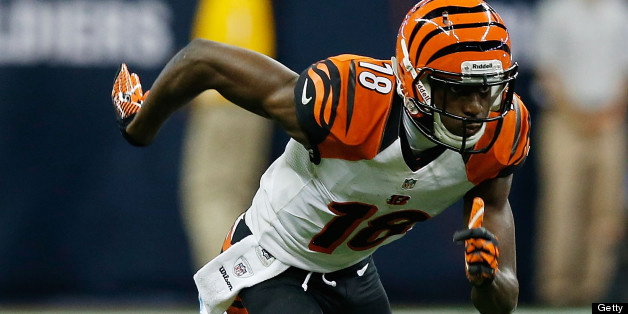 CINCINNATI (AP) — An MRI found that Bengals All-Pro receiver A.J. Green has a bruised knee, forcing him to miss several days of practice.
Green hurt his left knee near the end of Cincinnati's first training camp practice on Thursday, twisting his leg as he planted to try to make a sideline catch. Green said an MRI that found no structural damage.
At first, he feared that it was a significant injury. A trainer examined the knee, and Green got up and walked off the field.
"It was (frightening) for me," Green said. "I felt it, but everything felt intact. I got up and walked off, so it's fine."
Coach Marvin Lewis said Green will miss at least the weekend practices, when the Bengals put on pads for the first time. Lewis said Green suffered a bruise inside the knee.
Cornerback Terence Newman was covering Green on a deep pass along the sideline that drifted out of bounds. Newman gave Green a light push as he tried to get away from him. Green planted his left foot awkwardly, hurting his knee.
"I saw that the ball was going to sail out of bounds so I tried to pull up and just go behind him," Newman said. "But he's the type of receiver that tries to make every single catch possible. So I just kept on running and I came back and saw him on the ground. I didn't know what happened to him.
"It was a scary moment, for sure. That's one of those guys that if he threw up on the sideline, I'm nervous. Now I'm seeing him grab his knee, so I'm really nervous. Sounds like he's going to be good, though, so that was a breath of fresh air."
Players stopped and watched Green get his knee examined on the sideline.
"It's awful no matter who it is," offensive coordinator Jay Gruden said. "When it's A.J., it kind of takes the wind out of everybody. It was silent there for a few seconds."
Green said he won't change his all-out style in practice.
"That's how I'm programmed," he said. "That's what I know."
___
Online: AP NFL website www.pro32.ap.org
Follow Joe Kay on Twitter: http://twitter.com/apjoekay
BEFORE YOU GO
PHOTO GALLERY
2012 NFL Season Highlights