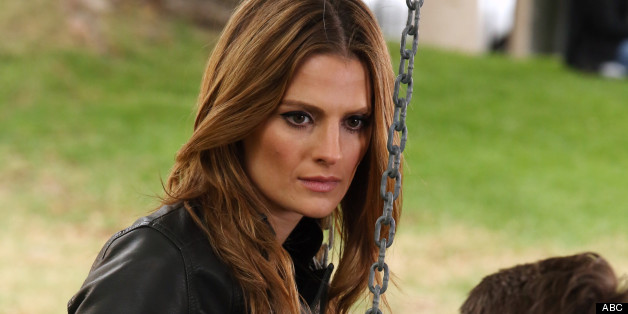 "Castle" fans, brace yourselves.
A new video has popped up on YouTube that reveals a major "Castle" Season 6 spoiler, so read on if you dare.
"Castle" executive producer Andrew Marlowe spoke with TV Guide this week and confirmed that actor young actor Myko Olivier will join Season 6 as Pi, who Castle's (Nathan Fillion) daughter Alexis (Molly Quinn) met in Costa Rica. "He moves into the family loft and leaves Castle feeling invaded at home," Marlowe told TV Guide.
For proof, check out Olivier's audition tape for "Castle" Season 6 below, which not only gives some insight into just how much his Fruitarian lifestyle drives Castle crazy, but also answers the biggest question of all: Will Beckett (Stana Kanic) accept Castle's proposal or will she go to Washington, D.C. where she was offered a job with a special task force?
Olivier posted a video of his audition to his Vimeo account and then deleted it, probably because the dialogue reveals the answer to that big question, which has been plaguing "Castle" fans since the Season 5 finale. Fortunately -- or unfortunately, depending on how you feel about spoilers -- Caskett fans caught wind of Olivier's audition tape and put it up on YouTube before he took it down.
Who knows if the dialogue will remain the same once Season 6 of "Castle" hits ABC this fall, but here's how the script reads in the audition tape above (starting at the :58 mark):
Pi: "Hey, Mr. C -- I get the feeling that things didn't go so well in D.C. with your fiancé."
Castle: "No, Pi -- they didn't."
Pi: "I mean, I hope you don't mind me bringing it up, but sometimes the best thing to do is talk about it."
Castle: "You know what? You are absolutely right. Thanks."
Pi: "Where you goin'?"
Castle: "To find someone to talk about it with."
So, Beckett says yes and she still takes the job in D.C.?! Caskett just can't catch a break. But worry not -- Marlowe teased to TV Guide that Season 6 will be a "romantic" one, including "a birth, a new love interest for one character and possibly a wedding." He added, "Regardless of [Beckett's] answer, it is going to significantly change their relationship."
While we may not know who Castle finds to "talk about it" with, Beckett may be leaning on "House" alumna Lisa Edelstein, who will have a multi-episode arc on "Castle's" upcoming season as Rachel McCord, "a tough and highly-skilled Federal Investigator whose appearance plays a vital role in Beckett's decisions about her future," according to TVLine.
Do you think Castle and Beckett will survive Season 6? Could we see their wedding this season? Sound off in the comments!
"Castle" Season 6 premieres on Monday, Sept. 23 at 10 p.m. ET on ABC.
PHOTO GALLERY
Castle Season 5