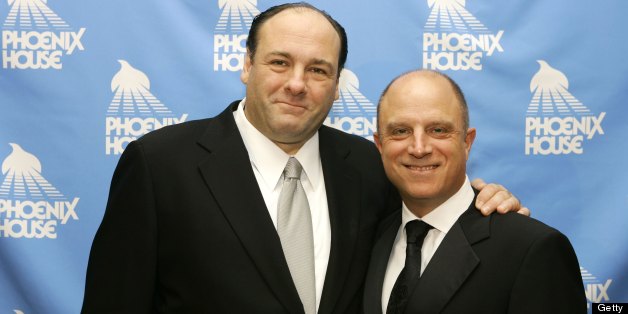 Tony Soprano was a TV game changer.
Without "The Sopranos," there would arguably be no "Breaking Bad," no "Mad Men," no "Dexter" and no "Game of Thrones." The HBO mob drama, fronted by the late James Gandolfini, raised the bar, leading the entertainment industry to see that small screen content could be as good as if not better than the more prestigious movie medium.
Current Starz CEO Chris Albrecht was a big part of that transformative stage of TV at HBO as the cable network's former chairman and CEO. His leadership ushered in a wide-range of critically acclaimed series like "Sex and the City," "Six Feet Under," "Band of Brothers," "The Wire" and, of course, "The Sopranos."
While at the Television Critics Association Summer 2013 press tour on Friday, Albrecht opened up about the actor who died in June and was a big part of his HBO glory days. "James Gandolfini was part of years and an experience that changed my life and changed the life of everyone intimately involved in it," Albrecht told the press during a Starz panel. "I remember the first time I saw him -- I will never forget it. He was extremely talented. I have said it before -- nobody will ever be better at anything than James was in 'The Sopranos.' He will be missed. He was a very nice man."
Michael C. Hall -- who currently plays the titular character on Showtime's "Dexter" and who also was part of "Six Feet Under's" ensemble cast on HBO during "The Sopranos" era -- opened up about his connection to Gandolfini in a recent interview with The Huffington Post. "I certainly was really saddened and rocked to hear that James Gandolfini had died. ['The Sopranos'] meant such a great deal to me, and it really did signify what some people are calling the Golden Age of serialized cable programming," he noted. "I felt like 'The Sopranos' was like the big firstborn high achieving child, and 'Six Feet Under' felt like we were sort of the artistic black sheep. But I certainly admired him, and part of the thrill of working on 'Six Feet Under' was that I was going to work on the network that produced 'The Sopranos,' because I was a huge fan of that show."
Take a look at some of Gandolfini's work on "The Sopranos" below:
PHOTO GALLERY
The Best Of James Gandolfini On 'The Sopranos'