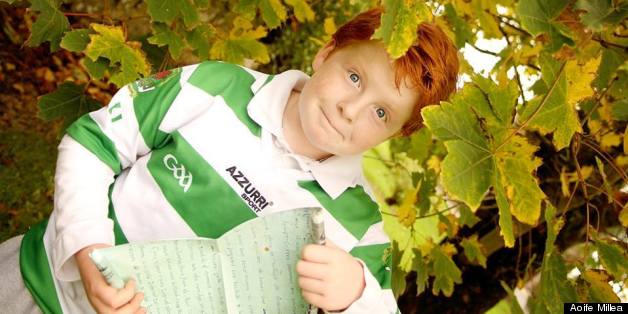 When ten-year-old Oisín Millea found a bottle in Passage East, Co. Waterford with a message written in French last year, he could never have dreamt what would come next. Like a scene out of a movie, this find would win him the trip of a lifetime for his family to Quebec. (*SEE VIDEO BELOW*)
His "treasure," as he calls it, contained a note from two Quebec girls, Charlaine and Claudia, who had, eight years earlier, released the bottled into the waters of Quebec's St. Lawrence River in the hope that it would eventually be discovered by a stranger, according to the Irish Independent.
Oisín eventually found the girls, now in their 20s, and met over Skype last October. In order to celebrate the boy's amazing discovery, Tourisme Québec minister Pascal Bérubé provided Oisín's family with a 12 day trip to Quebec, which began July 11 and concluded July 23. Tourisme Québec has also invited Charlaine and Claudia to visit Ireland this summer.
According to Tourisme Québec's press release, the family's travel plans included "the island city of Montréal, 400 year old walled Québec City, a visit to the Irish Memorial park on Grosse Ile, sleeping in a yurt, and whale watching in the St Lawrence at Saguenay Fjord."
Fans of Oisín were able to follow his travels from his personal Twitter account, @Oisin_in_Quebec and from Tourisme Québec's Twitter account, @TourismQuebec with the hashtag #messageinabottle.
Charlaine and Claudia met Oisín at the airport in Quebec upon his arrival!
#FF @Oisin_in_Quebec visiting @Montreal @quebecregion @ChaudApp @Quebecmaritime @GoCharlevoix #messageinabottle pic.twitter.com/4wdAZjcQGl

— Tourisme Québec (@TourismQuebec) July 12, 2013
Here are some of Oisín's tweets throughout his trip:
I've made a new friend. Squirrels are everywhere. Amazing! #MTLMOMENTS #messageinabottle pic.twitter.com/dZwyBfQvNu

— Oisín Millea (@Oisin_in_Quebec) July 12, 2013
My sister Sarah just tried smoked meat @ Rubens. She likes it @Montreal pic.twitter.com/LIVGGtyADC

— Oisín Millea (@Oisin_in_Quebec) July 12, 2013
@EspacePourLaVie w/mr Bérubé, the tourism minister of Québec. I have his bus. card. André, you better watch out. pic.twitter.com/PsH1wzekmK

— Oisín Millea (@Oisin_in_Quebec) July 13, 2013
My first #poutine with @CaptainJulien #hotelgrandevalleedesmonts #gaspesiejetaime #messageinabottle pic.twitter.com/Hh0R5kZlS3

— Oisín Millea (@Oisin_in_Quebec) July 19, 2013
I've catched the biggest trout @FairmontManoir and Gilles cooked it for me! Deadly! #messageinabottle pic.twitter.com/XjjLbEH1ta

— Oisín Millea (@Oisin_in_Quebec) July 22, 2013
And when his trip finally came to an end, he was not a happy camper.
Now it's true. We're leaving. Bye Québec, thanks @TourismQuebec, @Magabout and André for this amazing trip. ❤💋❤🏃👍 pic.twitter.com/Va29a97PA3

— Oisín Millea (@Oisin_in_Quebec) July 23, 2013
BEFORE YOU GO