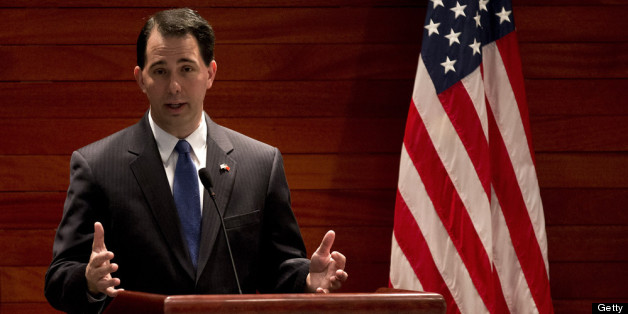 Wisconsin Gov. Scott Walker (R) offered some analysis of the 2012 presidential election on Thursday night, saying that failed GOP candidate Mitt Romney would have fared better in the Badger State had he been able to shake the "rich guy" stigma.
"I still contend in my state, if Mitt Romney had made the 'R' next to his name, like I did, stand for 'reformer' rather than 'rich guy' -- nobody cares about rich guys -- he would have carried Wisconsin and every one of those battleground states," Walker said at a summit of GOP governors, according to the Aspen Times.
But Walker also countered a contention by the panel's moderator that the GOP had become the party of the wealthy. Instead, the Wisconsin Republican suggested that Romney had allowed the "rich guy" label to stick to him, and therefore the entire party.
Romney never released his tax returns, but was estimated to have been worth around $250 million at the time of the election. Compounding the problems from public perceptions about his personal wealth, Romney was significantly damaged by his hidden camera comments in which he argued that 47 percent of Americans were dependent on government, and would therefore support President Barack Obama no matter what.
"[M]y job is not to worry about those people. I'll never convince them they should take personal responsibility and care for their lives," he said.
Walker's claim of being a "reformer" is also a controversial issue in Wisconsin. In 2011, Walker and state Republicans successfully pushed a law eliminating most union rights for public employees. The move led to massive, sustained protests at the state Capitol building in Madison, and an ultimately unsuccessful recall effort against Walker and other lawmakers.
BEFORE YOU GO
PHOTO GALLERY
United States Governors