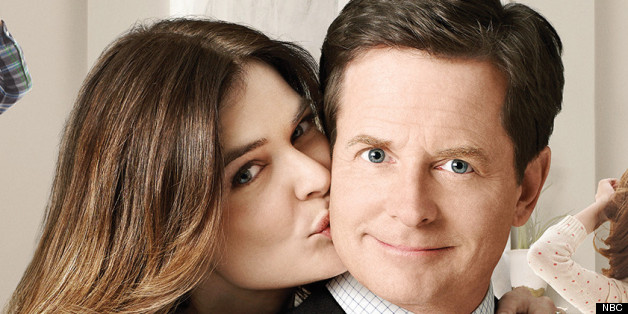 Michael J. Fox joined co-stars Betsy Brandt and Wendell Pierce, and executive producers Will Gluck and Sam Laybourne at the Television Critics Association panel for "The Michael J. Fox Show" on Saturday.
Check out our liveblog below for details on NBC's new comedy and Fox's full-time return to TV.
07/27/2013 2:30 PM EDT
That's a wrap from "The Michael J. Fox Show."
07/27/2013 2:29 PM EDT
Fox's periods of under and over-employment
The second time -- I'd just been married, my son had just been born, my father passed away, we did two movies back to back and did the last season of "Family Ties," that was brutal.
Underemployment was when I first came here to LA in 1979, I sold my guitar ... I'm a cautionary tale that didn't end so badly.
07/27/2013 2:26 PM EDT
Chris Christie will guest star. There's a great set-up where Mike has been kept up for a few days so when Christie comes in, Mike nods off about three seconds into the interview.
07/27/2013 2:25 PM EDT
Using celebrities and NBC personalities
Gluck: His world can be filled with actual people who are fun to see on TV as well as character actors. We have ideas for Mike's parents coming down the line.
Fox: The idea of making him a local newsman, out there in America, local news anchors have a real place in people's lives. In New York it's especially strong -- it was a way to have a character to be recognizable on the street, but not have him be an actor or an athlete. I mean, actor would be boring and athlete would be impossible.
07/27/2013 2:23 PM EDT
Guest Stars -- including Fox's wife
Fox: Hopefully. [My wife] Tracy actually did an episode of the show and she was great, it was really funny. She had a lot of scenes with Wendell. He's after all my wives. As characters come up, we'll certainly mine old friendships and old working relationships.
07/27/2013 2:22 PM EDT
How the show came together
Gluck: Mike and I got together, we started talking about his experiences ... everything could not have gone smoother. We started talking about the tone, we brought it to NBC, they were on board ... Some of the episodes we're shooting now, there are scenes and episodes that we talked about in our first breakfast together. We're honoring Mike Fox, the family stuff he's going through with his family and his kids, it's funnier than what other families are dealing with.
07/27/2013 2:19 PM EDT
Has Fox had to pace himself or change his work rhythm?
Fox: Yes, partly because I'm 52 years old. That's just old -- that's not Parkinson's, that's just being old. The muscle gets strong again, and I so enjoy ... the scripts have been fantastic, they're such a joy to work with, they really capture this unique perspective of this family ... We just fell into the rhythm and all enjoy working with each other so much. It's different from "Spin City" and "Family Ties."
07/27/2013 2:18 PM EDT
Fox says he rested up and spent time with his family, but now "felt like the right time to do it." Guest spots on other shows helped him feel okay about getting back into full-time work.
07/27/2013 2:17 PM EDT
How they approached the series and his disease
Fox: I thought, 'I'm just going to do this like I would do it and let it be what it is.' There wasn't much strategy behind it ... we found the story we wanted to tell and we just told it. The humor was based on the stuff I deal with on a daily basis. That's my wife, she would do that. So it evolved that way, there really weren't any charts.
Gluck: We were startlingly uncalculated about this show. Whenever you're with Mike, he's managing everybody else and how they react around him ... Mike doesn't really care. Episodes coming up will be about Mike who has a unique perspective ... [Parkinson's] is always going to be there but it's not going to be the spotlight.
07/27/2013 2:14 PM EDT
The show's balance between work and family life
It's designed as a family show, work will be a satellite that they dip into.
Producer Will Gluck: "Anne Heche has been fantastic, we've shot a couple of episodes with her. Early on ... we talked about getting a nemesis for Mike, so without giving away too much, there was a disputed incident that happened in Orlando in the Everglades and she may have used Mike to advance her career."
BEFORE YOU GO
PHOTO GALLERY
NBC's New Shows 2013-2014