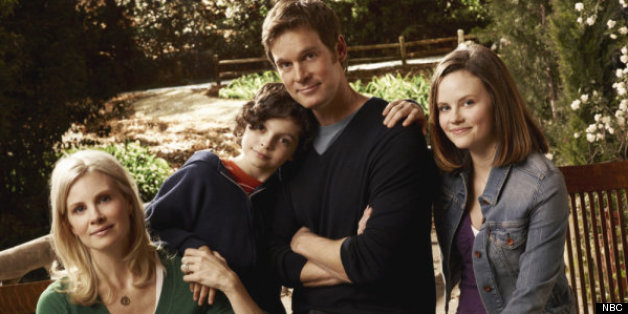 On hand for today's "Parenthood" panel at the Television Critics Association press tour are Joy Bryant, Erika Christensen, Lauren Graham, Sam Jaeger, Peter Krause, Craig T. Nelson, Monica Potter, Dax Shephard, Mae Whitman and executive producer Jason Katims.
Check out the liveblog below for more on what the Braverman clan has been through and what's to come on the NBC drama.
07/27/2013 7:32 PM EDT
Baby love
"We're employing 90 percent of the newborns in L.A.," Dax Shepard says of working with the babies on set (there are many babies on set given that each one can only "work" for a short time).
And Shepard says he so loves his own new baby with Kristen Bell that it's almost more difficult to play the frustration that Crosby is meant to feel about dealing with a crying baby in his "Parenthood" scenes.
07/27/2013 7:30 PM EDT
Sarah and Amber's futures
Lauren Graham says that Sarah is a building supervisor in the new season and she calls herself the "Schneider" of the building (a reference to "One Day at a Time"). Given that her kids are older, their relationships will change going forward
"What I'm hoping with both Mae and Miles that we become the process of becoming peers," Graham says.
The pre-panel clip also showed Sarah saying to Amber that they should "plan her wedding," but Whitman does not confirm that there a marriage this season.
"Maybe they'll have a double wedding," Graham jokes.
Speaking of couples, "you might want to be a little bit concerned" about Julia and Joel, in response to another question about another branch of the Braverman family tree.
07/27/2013 7:27 PM EDT
Kristina's fate
They decided Kristina's fate independently of whether the show was going to get a renewal. In other words, they decided she would not die, and then NBC's decision to renew the show came along separately.
07/27/2013 7:26 PM EDT
Time warp
Given that the highlight clip reel shown before the panel showed Jasmine holding a new baby, Katims confirms that there will be a time jump between Season 4 and Season 5.
07/27/2013 7:24 PM EDT
Zeke speaks
Craig T. Nelson was asked about an interview in which he was critical of the network's promotion of the show.
"You get frustrated with the fact that it doesn't seem to be honored the way that you feel it should be," Nelson says. "This is, like, 18 years of series television and I haven't been associated with a show this wonderful," and as the "patriarch" of the "Parenthood" family, he wanted to speak out. He didn't feel it was being promoted and marketed "correctly or enough, and I just wanted to see it happen more and I spoke out about it. I'm proud of that. That's what Zeke Braverman" would do, Nelson said.
Katims is asked about the network's promotion of the show. The cast laughs nervously about how awkward the discussion has become.
"We're sitting here doing a panel on the show" going into the fifth season, Katims says, which is a mark of NBC's commitment. "Of course, we want to see the show is getting out there to as many people as possible because we're all very proud of it. I feel a passion from the network about it. I know that Bob Greenblatt from the day that he came [to the network] was an enormous supporter of the show and I think the move to Thursdays is" is a positive one. Katims notes that the show got a full-season order and the Thursday move means the show is not being "put out to pasture,"
"We've had our struggles and our frustrations along the way" but he's feeling positive about the network's treatment of the show right now. Which is of course the only thing that Katims can say with all of the NBC brass standing 30 yards away (and I take him at his word when he speaks about his feelings regarding the treatment of the show, I should point out).
07/27/2013 7:17 PM EDT
Amber's path
Asked about Amber becoming more of an adult, Mae Whitman talks about her character being a bit of a "petulant teen" at times and having her first (fake) beer last season.
"It's exciting to see" how the relationship with Ryan will develop, even though it's still a bit strange to be considered one of the adults on the show, Whitman says, and it mirrors the fact that, in her own life, how she and her friends are now of an age where they are making more long-term and lifelong commitments.
07/27/2013 7:15 PM EDT
How well did Max Burkholder understand Max Braverman then and now?
"At the beginning I knew next to nothing about Asberger's and autism," Max Burkholder says. There was an expert on set in the early days but these days, the actor has "figured out who he is as a character" and feels more confident in portraying Max as a character and as a well-rounded example of a character with Asperger's.
07/27/2013 7:13 PM EDT
Kristina's journey
To prepare for Kristina's illness, Monica Potter said she talked to women who'd gone through cancer and to their family members. But she did not really shave her head, she added.
07/27/2013 7:11 PM EDT
Finding the balance
Executive producer Jason Katims talks about the how the story ideas come from the lives of the writers and everyone who works on the show. "It's also about trying to find the balance in story lines," he adds, and says that they needed to balance the cancer storyline with stories like Sarah and her two boyfriends.
Do the writers try to make things easier on, say, Adam and make things harder on say, Sarah, in order to change it up from season to season?
Katims says they try to realistically portray the consequences and fallout of every thing that happens. So with Adam and Kristina, "what they've been through will inform" what they go through next season, Katims says. Same with Lauren Graham's Sarah, who "spent so much of her energy last year" dealing with two different relationships. "I think this is a year of her wanting to figure out" her next step in life and not be focused "solely on a romantic relationship," Katims says.
07/27/2013 7:04 PM EDT
Time to cry
The highlight reel from the most recent season is, of course, tear-inducing.