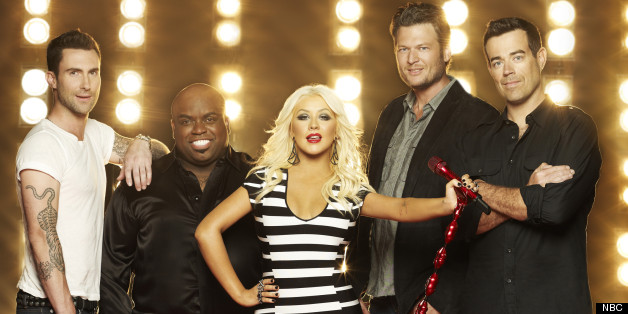 Christina Aguilera and CeeLo Green return to "The Voice" this fall, and the coaches joined fellow mentor Adam Levine and host Carson Daly at the Television Critics Association press tour on Saturday to preview the new season.
Check out our liveblog below to find out what you can expect from the newest cycle of "The Voice."
07/27/2013 8:25 PM EDT
That's a wrap from "The Voice."
07/27/2013 8:25 PM EDT
Carson: Blake's in concert tonight and couldn't be here.
Adam: He's lying, he's at home in bed.
07/27/2013 8:22 PM EDT
Carson's TV Past
Adam: Carson is actually the first guy who put our band on TV. He was the only person who would put our band on TV, so thank you for giving us a shot.
Carson: You're welcome, write me a check.
07/27/2013 8:20 PM EDT
Disappointed by any of the winners?
Adam: We always wind up being happy for whoever wins.
CeeLo: On two occasions I was very disappointed. I wanted my Nicholas David and Juliet Simms to win.
07/27/2013 8:19 PM EDT
What Christina did in her time off
Christina: I cannot live in front of the camera 24 hours a day. I have to take breaks and stay connected with myself, I think that's important so that you can be your best on camera. I'm a mom, when the cameras go off I put on sweats and a t-shirt and I'm mom. He starts kindergarten in the fall so I'm excited about that ... I wanted, for myself, have a moment ... I've been on a really incredible journey the past six months, I feel revived and renewed.
07/27/2013 8:17 PM EDT
CeeLo: At any moment I can bring one of my pets up there -- I brought my boa constrictor up there but they didn't like that.
07/27/2013 8:16 PM EDT
Worries about the ratings?
Carson: This is a show that's on the schedule twice ... as producers we do look at the format and we do reserve the right to not damage the DNA. We thought the steal was a way to recapture some of the excitement -- if we do see a drop-off, we reserve the right to change the format and recapture some of that excitement.
07/27/2013 8:13 PM EDT
CeeLo going back to Vegas?
CeeLo: I'm going back next year -- this time I'll be at the Rio and have my own room.
07/27/2013 8:13 PM EDT
The appeal of the show
Christina: What's great about the show ... it is like a family, I don't want to be cliche, but I was looking forward to having a laugh with these guys... The four of us, it's so much fun, to have a laugh with these guys, we just have a good time. And to get to meet fresh talent, it's a new experience... For now it's a good fit for me.
Adam: And by the way, don't assume I don't need a break, because I do and I should probably take one, but I'm too insane.
CeeLo: I really missed the company a lot, that's what brought me back.
07/27/2013 8:10 PM EDT
Why they have yet to launch a huge star
Adam: It would be really nice if we could launch a huge star. A lot of things have to happen ... The fact that it hasn't happened yet isn't a shortcoming of the show ... There's been a lot of success from people on the show and been really fulfilled in a business where that's hard.
Carson: That's not the main goal. There's winners on this show every day. You've got four of the biggest names in the business offering an experience. That little nugget of advice ... they leave feeling like they've won.
Adam: We aim for the moon, but people don't really appreciate what it takes to get into these chairs, it takes so many elements. The immediacy of winning and becoming a huge star is a fairytale that we'd love to see happen, but it's still a fairytale.
Christina: It doesn't happen that way -- it didn't happen that way for me either. Right after the "Mickey Mouse Club" we didn't rocket to fame straight after.
Adam: The show has always endorsed the second/third/fourth chance, the record deals that have fallen through. The show is about promoting talent. If you're not in the negative in this business, you're winning -- all I used to want was to be able to pay the rent.
PHOTO GALLERY
TCA Quotables, Out Of Context