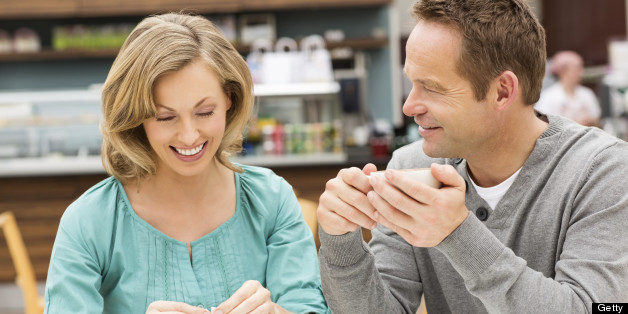 Think of all the former couples you know. Now think of the ones you know who have managed to remain friends. We're guessing you can count the number who are still close on one hand -- and even that seems like a stretch.
Yep, it's the rarefied pair who can maintain a civil relationship with one another after a marriage ends, so much so that when a couple does stay close -- think Courteney Cox and David Arquette -- we stand back in awe and wonder, "How'd they pull that one off?"
But it is possible. We asked our readers to tell us how they were able to put aside their differences and maintain a close bond with their exes after a split. Scroll down for six real-life stories from women who are still friends with their exes, whether for the sake of the kids or out of respect for the love they once shared, then head to the comments and tell us what your relationship is like with your ex today.
"The beginning of my relationship with my ex-husband was friendship. We graduated from high school together in 1985, had mutual friends and very similar experiences growing up in a small California town. We have deep connections and I think this is one reason why we are still close, besides the main reason: our beautiful children. We both love our girls. Our divorce did not change that. We want what is the very best for them. That meant redefining parenting. It meant supporting each other in our parenting decisions even if we didn't necessarily agree. It also meant continuing our friendship, showing affection and respect to one another, not just when the kids were around, but always." -Mimi Hirstein, Hawaii
"Six years after a brutal divorce (the worst kind of bitter fighting, adultery, jail), my ex and I now live in different apartments in the same building. We talk or text about our kids every day; we travel together to gymnastic meets and hockey games; occasionally call the other to talk about our romantic lives or personal worries; I even send up cooked meals sometimes. The other day I gave him the name and number of a trusted handyman, and with the contact I said, "Let him know we're family." Because we are, and we always will be.

Why? I'd say it comes down to two things: for me, the saying 'you're only as happy as your least happy child' also applies to my ex-husband. If he's not happy, my kids won't be happy. And if my kids aren't happy, I can't be happy. He's a devoted father, and I want to honor that, both for him and for our children. They deserve to feel and know that we will all always love each other. And second: life is too precious to live with hatred. He and I have learned to forgive each other, and in doing that we came to forgive ourselves, and that's a hugely better place to be. You can't have too much love." -Nina Collins, New York
"I've been divorced since 2002 but my ex and I have always maintained a close friendship. We were best friends throughout our marriage and even when we knew the marriage wasn't going to last, we didn't want to give up the friendship. We stay in touch primarily through text, but also talk on the phone and are friends on Facebook. We have dinner or lunch on occasion and still exchange Christmas gifts. We discuss current events, his kids, my kid, and the status of our relationships. If I'd ever get re-married, he would be the one to give me away. All of this hasn't been easy at times and we had to work through the residual grief and anger of the divorce. But it's been worth it." -Brenda Stone, North Carolina
"Don't get me wrong: It didn't start out this way. He walked out on me, with no warning, leaving me with bills, rent to pay and no job (I'm disabled). It took some time for me to forgive him and for my daughter to forgive him as well. But as time passed, we started to text each other, talking about the kids, or something funny we saw, and it just grew back into a friendship from there. Now he comes into the house to get our daughter and he helps me with things around the house. I think our friendship has helped our daughter get along with her dad a little better, too. I find being friends with him takes up a lot less energy than feeling that ache of hatred and anger." -Krissy VanNest, New Hampshire
"I hope my ex will always be my friend. After the split, I never slandered or bad-mouthed him to others, because I knew doing so would be hurtful, negative and unproductive to moving forward (though some unacceptable behavior did occur during our marriage). We both knew that the most important thing to us was our boys and they are the main reason we remain close. We share holidays and birthdays together. We discuss their expenses openly and calmly, and try to be fair with each other. We've even been able to talk about dating and girlfriends/boyfriends. Our children are happy, calm and have assimilated into our new lives incredibly well, with little drama and resentment. I am so happy that my ex and I are close, and truly couldn't imagine it being any other way!

The only piece of advice I would give to anyone considering divorce is to try to stay friends, for the sake of the kids, if nothing else." -Julie Weidenfeld, Florida
"When my ex and I divorced, we both agreed that we would not use the children to get back at each other, and we never strayed from this even when we had a few rough patches. We still talked with each other as friends because we still had a lot in common and actually liked each other. We both remarried and eventually we started celebrating Christmas, Easter and all the birthdays together -- we thought that our little boy should be with his siblings at such times, and we all liked each other's company anyway.

Two years ago my ex became very ill and eventually died. For a while he developed dementia and a couple of times I went to stay the day with him when his wife was working long shifts as a nurse and didn't want to leave him alone for too long. At the funeral, my husband, who is an amateur singer and guitarist, was asked to sing and play in the church. We have all felt very privileged to have this extended family and I only wish others could do the same. Of course, my ex and I were lucky that we actually still liked each other and that there wasn't anyone else involved when we divorced, but we were also very lucky that our new partners were not the jealous types. I know this all sounds like a fairytale, but it is true." -Ulla Jessen, Denmark
BEFORE YOU GO