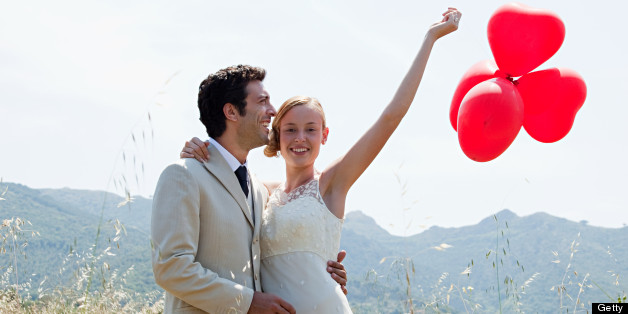 This article originally appeared in Wedding Ideas magazine
Make your guests remember your big day for all the right reasons with these heartfelt ways to say thank you.
1. Leave a heartfelt, handwritten note to each guest at their place setting so they can read it during the wedding breakfast. They'll appreciate the sentiment and it gives you a chance to truly thank them for attending your special day. Plus, it can also act as an icebreaker on the table, as everyone can share their own personal stories.
2. Give favors that provide a lasting memory of your wedding day, like packets of seeds and bulbs that tie in with your wedding flowers or pots of herbs that could double up as a place card.
3. If you're inviting little ones, ask them to bring a 'plus one' in the form of their favorite cuddly toy. Arrange for a toy table with some spare place cards where they can write who's joining them (Jenny the bear, Louise the doll) -- then sit back and watch them create their own little party.
4. Don't give non-drinkers boring orange juice, make up an exciting mocktail that is as much fun to drink as its alcoholic counterpart. Write the ingredients up on a chalkboard placed near the bar, so everyone knows exactly what they're drinking. Wedding Ideas' favorites include a classic Shirley Temple and Tornado Twists. Yum!
5. Spoil your guests with something completely unexpected. Sweet tables, magicians, balloon releases and fireworks all add the wow factor, and show that you care about their enjoyment as well as your own. Remember most of your friends and family will not have seen many of these wedding-y things before, because they haven't spent the last year reading wedding magazines, so to them, it'll be a totally unique idea.
6. A guest book is a wedding must-have, but nowadays they come in lots of different, funky forms, which can make for fun memories for your guests. Capture the good luck messages from your day, and keep your guests happy and entertained at the same time, by hiring a photobooth or a Big Brother-style recorded message room. Put a pot of props by the booth so guests can enjoy dressing up and posing for the camera!
7. If you have a lot of teenagers attending the wedding, why not give them their own space? Naturally, they'll be too cool to be seen anywhere near their parents, but too old to hang out with the kiddies, so set them up with a Wii or Xbox -- especially useful for entertaining them during the speeches.
8. The ultimate way to spoil your guests has to be with a free bar, all night. If the budget won't stretch to that, why not
put a certain amount of money behind the bar instead, so that everyone's first evening drink is free? Cheers to that!
9. Tap into everyone's competitive sides with a few little organized games. How about having a bake-off where everyone brings a cake to be judged by you and your new hubby? Or a rubber boot-throwing competition if you're having a rustic, glamping-style big day? Alternatively get guests splashing their fake cash on a casino and give a prize to the overall winner. Invent a competition that reflects you as a couple, and give a bottle of wine or a rosette to the winner.
10. Arrange to have a few baskets of umbrellas and rain boots near the entrance of your venue in case guests want to explore the grounds, but the weather turns bad. Umbrellas could also act as sun shades should the weather be fine. Brief an usher to be in charge of them, so you know they all get returned afterwards for everyone to enjoy.
11. Make sure there's always enough food and drink for everyone throughout the day. It's a long day for guests, especially if they've had to travel beforehand. Have some drinks and nibbles after the ceremony to keep people going until the wedding breakfast and then arrange for a pig roast, cheese buffet or mini fish and chips at about 9 p.m. for the evening guests, and those still hungry! Remember to have jugs or bottles of water dotted around, too.
12. To guarantee that the dance floor is buzzing all night long, have a little space on your RSVP cards where guests can write their three favorite songs of all time. Collate all these songs on a must-play list for your band or DJ then stand back and watch your guests dance their socks off. Do make sure that the tracks they've picked are age appropriate without any rude words, though!
Keep in touch! Check out HuffPost Weddings on Facebook, Twitter and Pinterest.
BEFORE YOU GO
PHOTO GALLERY
Wedding Gifts For Under $50