According to a recent poll, young Americans are finding themselves with fewer job opportunities as the recovery continues.
The poll, conducted by Gallup, discovered that only 43.6 percent of Americans ages 18 to 29 had a full-time job in June 2013. That rate is lower than the 47 percent of millennials who were employed full-time in 2012. In fact, more young Americans reported to be employed full-time three years ago than last month.
Here is the chart from Gallup: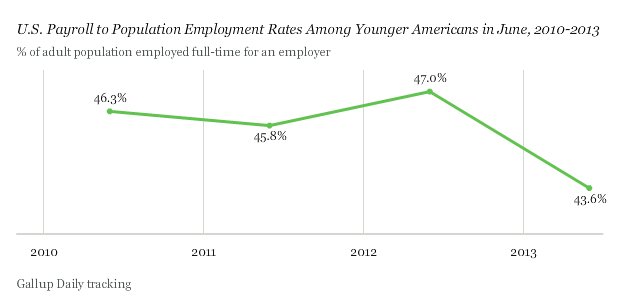 One report by the organization Generation Opportunity measured the youth jobless rate at 16.1 percent in June, more than double the 7.6 percent unemployment rate experienced by all Americans. Additionally, Generation Opportunity has estimated that there are 1.7 million young adults without a job who are not counted as unemployed because they've given up looking for work altogether.
After the number of unemployed Americans skyrocketed during the Great Recession, young people began to compete with more experienced candidates for very few job openings. In turn, America's youth nonemployment has become one of the worst among large and wealthy nations, according to a report from public policy organization Demos.
Gallup's recent poll also discovered that the benefits of having a college education in today's job market continue to grow. Americans between the ages of 18 and 29 who have at least a college degree are nearly twice as likely to have a full-time job than their peers without a degree, according to the survey.
That said, many young Americans with college degrees are facing the additional stress of paying back ever-growing student loan debt. A recent survey from One Wisconsin Institute, a communication network for Wisconsin progressives, found that it will take the average student loan borrower more than 21 years to completely pay off their debt.
Roughly two-thirds of college students graduated in 2011 with debt levels reaching about 60 percent of their average annual income, according to a June report from Congress' Joint Economic Committee.
BEFORE YOU GO
PHOTO GALLERY
10 Jobs That Won't Be Taken By Robots, Yet