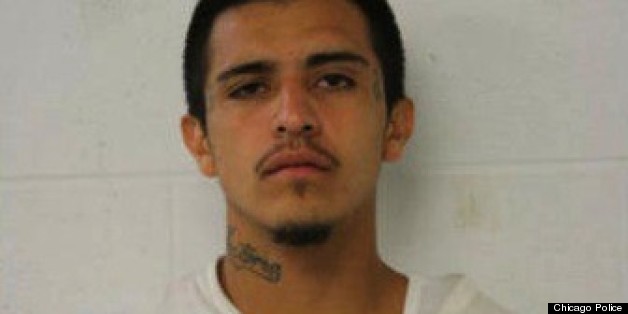 A 19-year-old Chicago man was denied bond Sunday after prosecutors say he and a 14-year-old accomplice shot a man who was shielding his toddler as many as six times as part of a gang initiation.
Esteban Sotelo, 19, is charged with attempted first-degree murder, aggravated battery and unlawful use of a weapon by a felon in connection to the Thursday shooting, the Tribune reports. Prosecutors say the shooting was supposed to be a gang initiation for the 14-year-old; the boy is is charged with aggravated battery and discharge of a firearm.
Prosecutors say the 29-year-old man was leaving his mother's house in the 2700 block of West 24th Street around 4:40 p.m. with his wife and their 20-month-old daughter and was trying to place the child in her car seat when Sotelo approached him, NBC Chicago reports.
The suspects, both members of the Latin Kings street gang, set out to shoot a rival Satan Disciple member for the 14-year-old's initiation, according to DNAinfo Chicago. Sotelo and the teen approached the car with the child inside and prosecutors say the victim turned to shield her from the gunfire after Sotelo called out to him.
The victim was shot six times in the legs, back and neck and still has a round lodged in his nasal cavity below his eye, according to prosecutors. He remains hospitalized following the incident. Police did not confirm if the victim was indeed a Satan Disciple member.
At the time of his arrest, prosecutors say Sotelo was already on probation for a felony cocaine-related conviction and has a juvenile record as well, for a 2007 robbery and a 2009 aggravated battery.
BEFORE YOU GO
PHOTO GALLERY
Crime In Chicago