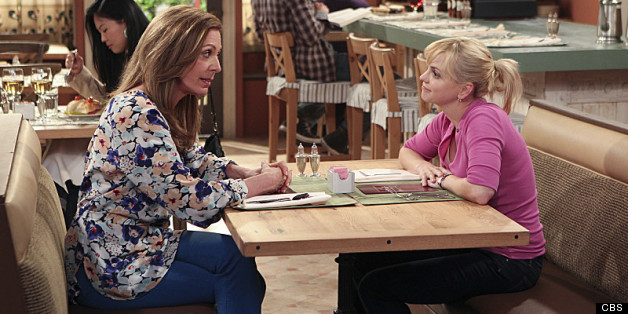 CBS' "Mom," starring Anna Faris and Allison Janney, will see Justin Long and Octavia Spencer recurring in early episodes, creator Chuck Lorre announced at the show's Television Critics Association Summer 2013 press tour panel on Monday.
"There's going to be a love interest [for Anna's character] played by Justin Long -- that's going to come up in the first few episodes," Lorre said. "Poor bastard doesn't know what he's in for. He's going to be her first shot at a meaningful relationship."
Oscar winner Spencer will first appear in the fifth episode of the series, "She's playing a woman who has bigger problems than Christy [Faris], so Christy gets some perspective," Lorre said.
Spencer expressed her own enthusiasm via Twitter soon after:
@JRadloff Ha! Faris, Janney & entire cast R brilliant. Writing, brilliant. I had Lorre in a bear hug til he promised he'd put me on! #Mom

— octavia spencer (@octaviaspencer) July 29, 2013
"Mom" follows Faris' Christy, a single mother and waitress who joins an Alcoholics Anonymous group in an attempt to try and get her life back on track, but soon, she finds her efforts challenged by her high maintenance mom Bonnie (Janney).
After a string of movie roles, Faris said she was attracted to "Mom" because the character was "so dimensional," especially in comparison to some of her previous characters. "She's a mess, which is very much like me ... It's a story about relationships and characters, so that format was very appealing to me ... Playing those one-dimensional characters is actually really difficult, because you're not dealing with somebody you'd ever really know. I don't think anyone can imagine knowing Cindy Campbell from 'Scary Movie.' Your job is easier when you're playing a person you can understand, who seems relatable."
Lorre said that his idea for the series came "from a desire on my part to finish something I've been attempting to do for many years ... a woman starting her life over again, redemption and all those really funny premises for sitcoms ... It's very meaningful to me because it's about starting your life over again, fixing your relationships."
When asked about his expanding comedy empire, Lorre admitted that "Two and a Half Men" practically runs itself at this point since the writers have been on staff for nine or 10 years, so most of his focus will now be on "Mom": "This is a brand new baby. It requires a great deal of love and care." He recounted some advice that Norman Lear once gave him: "You go where the fire's burning the brightest; you go and do what you can do where you're most needed."
In addition to Janney -- who said she "couldn't be happier" with her new role -- and French Stewart, the comedy also stars Matt Jones, who was asked how his hapless character Baxter (Christy's baby daddy) compared to his "Breaking Bad" role of Badger.
"This character does not sell drugs that are that severe," Jones said with a laugh. "I think this character is a lot more well-intentioned. He really does care about his son and Christy, and helping out as much as he can -- he just fails at it constantly ... On 'Breaking Bad,' I was just trying to get high."
Speaking of the relationship between Faris and Janney's characters, Faris admitted that they're both hoping for flashbacks. She had nothing but praise for her co-star as both an actress and a person, but said that Bonnie will be Christy's "biggest champion and my harshest critic ... very, very critical, just like all moms are."
"Mom" premieres Monday, September 23 at 9:30 p.m. ET on CBS.
PHOTO GALLERY
CBS New Shows 2013-2014