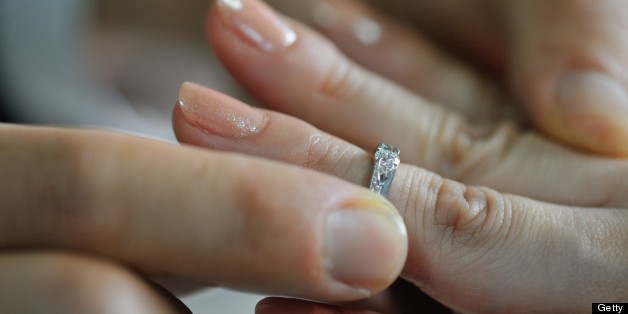 Flash mob and jumbotron proposals can be awesome (if you're into that whole public spectacle thing). But there are lots of wonderful, small-scale proposals that will never make the local news and you'll probably never find on YouTube.
On Sunday, Redditor Qartan asked users to share the story of their marriage proposals. Below are five super-sweet stories that will make you feel all warm and fuzzy inside.
My fiancée has a terrible habit of asking why I love her. I decided to answer her for good (it didn't work, she still asks). I printed out around a hundred pictures from our past and hung them from the ceiling of her room with twine, each with a relevant reason as to why I loved her. I surprised her when she got home from work and as she was totally overwhelmed with the display, I got on one knee. After the crying and calling family and friends I whisked her away for a weekend beach vacation so the two of us could be together and just soak it all in. - cj0928
Fourth of July, in the park, sitting on a blanket with fireworks bursting overhead. She said "yes." Best 4th ever. - shiny_brine
I bought her a Kindle for our third anniversary, and wrote a little story about us. Something cute, about 'this guy met a girl, and they talked about this and that' (with specifics about our relationship, of course). One of our early conversations was about Hitchhiker's Guide to the Galaxy, and the phrase "Do you know where your towel is?" The last line of the story that I wrote was "And, one very important question: Do you know where your towel...rather, your engagement ring is?" When she looked up at me, I brought out the box with the ring, knelt down, and asked the question. We got married two months ago. - demoux
He had a funny habit of catching frogs near his apartment. There was a terrarium at my house, so we would put a few in there for my kids (from my first marriage) to watch. He worked crazy hours, so sometimes on his way out the door, he would text me and say there was something at his house for me to pick up. And I'd drive over to retrieve another poor captive froggie. (Don't worry folks, he bought them live food from the pet store and they were always released back into the wild in a couple of days.) So one day he sends me a text. He had just finished working 20 hours after working 16 the previous day. But he had something for me to pick up, so he would stay awake for another hour so we could see each other for a few minutes before he fell asleep. I drove to his apartment and let myself in. I didn't see any amphibians in the kitchen, so I went to his bedroom to see if he had the critter in there and to steal a goodnight kiss. I walked in and he was in bed already. He popped a ring box out from under his pillow and opened it. But before he had said a word, and before I could say anything, he had fallen asleep! The poor guy... I gave him a big kiss, and woke him up just enough to tell him "yes" and then did the nicest thing I could do for him. I got the hell out of there and let him sleep! Been married four years now, the frogs have been replaced with two dogs, a cat, some fish and five kids. - evilkaty
We were in Chicago because he had to have surgery. So the day before the surgery he said he wanted to take me ice skating in Millennium Park. It was beautiful, snow was falling just perfectly. After a lap around the rink, he dragged me to the center so we could take pictures. Well then he pretended to fall, but actually fell, then got down on one knee with his grandmother's ring and said "I'm gonna marry your ass!" Then he actually asked. Of course I said, '"Yes." Then someone shouted from the crowd "What did she say"' And he yelled back that I said, "Yes," and the entire park cheered for us. It was seriously better than I could have imagined. - MamaD_Cooks
Click through the slideshow below for 10 more awesome proposal stories from Reddit.
PHOTO GALLERY
Marriage Proposal Stories From Reddit
Keep in touch! Check out HuffPost Weddings on Facebook, Twitter and Pinterest.