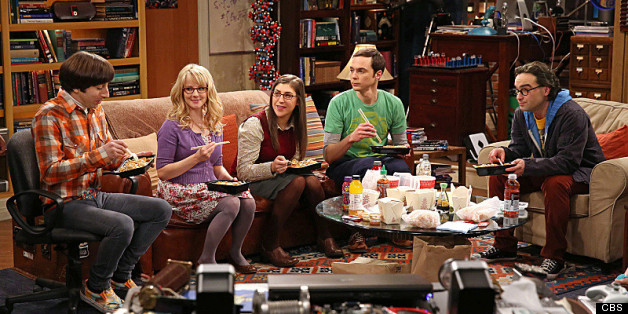 "The Big Bang Theory" Season 7 premiere is getting supersized.
The hit comedy's season premiere will now be an hour-long, and is set to air Thursday, Sept. 26 at 8 p.m. ET on CBS. The change pushes "The Millers" series premiere back to Thursday, Oct. 3 at 8:30 p.m. ET. Two original episodes of "The Big Bang Theory" will lead-in to the series premiere of "The Crazy Ones."
"The Millers" stars Will Arnett, Margo Martindale and Beau Bridges. Arnett plays a local news reporter whose parents split up. His mom, played by Martindale, comes to live with him. His father, played by Bridges, moves in with Arnett's TV sister played by Jayma Mays.
"The Crazy Ones" stars Robin Williams, Sarah Michelle Gellar and James Wolk as ad execs. Click here to see what HuffPost TV editors had to say about the new CBS shows.
Wednesday, Sept. 18
"Survivor", 8:00-9:30 p.m. ET
Sunday, Sept. 22
"The 65th Annual Primetime Emmy Awards," 8:00-11:00 p.m. ET/ 5:00-8:00 p.m. PT
Monday, Sept. 23
"How I Met Your Mother," 8:00-9:00 p.m. ET
"2 Broke Girls," 9:00-9:30 p.m. ET
*"Mom," 9:30-10:00 p.m. ET
*"Hostages," 10:00-11:00 p.m. ET
Tuesday, Sept. 24
"NCIS," 8:00-9:00 p.m. ET
"NCIS: Los Angeles," 9:00-10:00 p.m. ET
"Person of Interest," 10:00-11:00 p.m. ET
Wednesday, Sept. 25
"Criminal Minds," 9:00-10:00 p.m. ET
"CSI: Crime Scene Investigation," 10:00-11:00 p.m. ET
Thursday, Sept. 26
"The Big Bang Theory," 8:00-9:00 p.m. ET
*"The Crazy Ones," 9:00-9:30 p.m. ET
"Two And A Half Men," 9:30-10:00 p.m. ET
"Elementary," 10:00-11:00 p.m. ET
Friday, Sept. 27
"Undercover Boss," 8:00-9:00 p.m. ET
"Hawaii Five-0," 9:00-10:00 p.m. ET
"Blue Bloods," 10:00-11:00 p.m. ET
Saturday, Sept. 28
"48 Hours," 9:00-10:00 p.m. ET
Sunday, Sept. 29
"60 Minutes," 7:00-8:00 p.m. ET
"The Amazing Race," 8:00-9:00 p.m. ET
"The Good Wife," 9:00-10:00 p.m. ET
"The Mentalist," 10:00-11:00 p.m. ET
Monday, Sept. 30
*"We Are Men," 8:30-9:00 p.m. ET
Thursday, Oct. 3
*"The Millers," 8:30 p.m.-9:00 p.m. ET
Monday, Feb. 24
*"Intelligence," 10:00-11:00 p.m. ET
PHOTO GALLERY
CBS New Shows 2013-2014