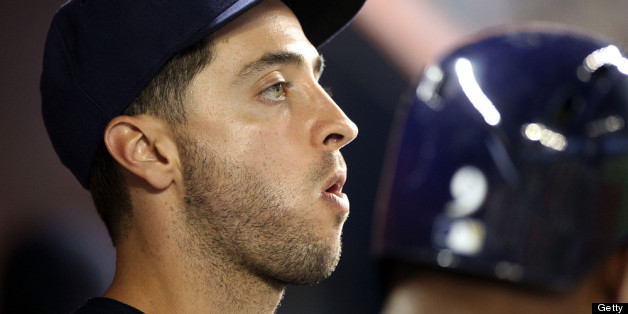 Have the Milwaukee Brewers put a fair price on fan loyalty?
The team announced Monday that all fans would receive a $10 voucher for any Brewers home game in August. The voucher is good for food, souvenirs or future tickets, the Milwaukee Journal Sentinel reported.
The team has been stung by star slugger Ryan Braun's suspension for performance-enhancing drugs and a last-place standing in the National League Central. The Journal Sentinel pointed out that Braun is surrendering $3.1 million in pay, while the team is expected to shell out $3.6 million in vouchers.
"We wanted to do something meaningful to show our appreciation," principal owner Mark Attanasio said in a statement.
The initiative is called "Fans First," and the voucher stage will encompass 12 games.
Kyle Lobner, managing editor of the Brew Crew Ball fan blog, told The Huffington Post that the team deserved credit for "attempting to proactively address backlash to the Braun suspension."
He wrote in an email:
There's nothing they can do that will entirely defuse the situation or remove the taste of a dreadfully disappointing season from the mouths of their fan base, but I do think this is a nice step to take to demonstrate that the organization recognizes the problem and cares about the perception of baseball in the community.
Yahoo! appeared to take a swipe at the offer, writing, "The Brewers have touched upon an existential truth in the fair state of Wisconsin: Nothing says 'you're loved and appreciated' like free bratwurst and beer."
Yahoo! pointed out that the Brewers have used significant giveaways before to entice the faithful. Fans were allowed to enter the last game of the 2005 season free of charge. Last season, Braun and pitcher John Axford gave away 5,000 tickets to the last game.
BEFORE YOU GO
PHOTO GALLERY
2013 MLB Season Highlights