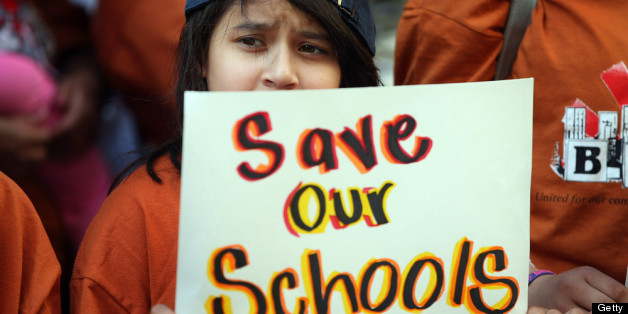 A new analysis shows state money recent doled out by the Chicago Public Schools district to hard-hit neighborhood schools overwhelmingly went to schools on the North Side.
The district recently distributed "give-back" funds of $35,000, $70,000 or $100,000 to 135 elementary schools to help ease the blow of deep budget cuts.
Here's the breakdown of how the $8.8 million in "give-back" funds were distributed, per the Sun-Times' analysis:
62 North Side schools are receiving $4.47 million, or an average of $72,000 per school
55 South Side schools are sharing $3.265 million, or about $59,300 per school
18 West Side schools are getting $1.065 million, or about $59,100 a school
While funds went to overwhelmingly North Side schools, the Sun-Times notes the ZIP code getting the most money — receiving $515,000 — was on the West Side in North Lawndale.

(See an interactive map of the school funding distribution.)
CPS CEO Barbara Byrd-Bennett announced July 10 to principals that state funds would be doled out early to help schools ahead of the fall session, DNAinfo Chicago reported. According to the Tribune, some critics called the additional cash "hush money" to quiet the most "politically powerful schools."
In recent days, the powerful Local School Councils on the North Side and other parent groups have demanded CPS restore money to fund such programs as art, music and languages. Several schools also rejected the money saying it was not adequate to restore programming and teaching positions.
Several alderman, such as Ald. Bob Fioretti (2nd), pushed Mayor Rahm Emanuel to dip into TIF funds to give the schools a boost. Emanuel rejected the proposal, arguing "You cannot either tax your way or TIF your way out of this problem."
BEFORE YOU GO
PHOTO GALLERY
Chicago School Closings