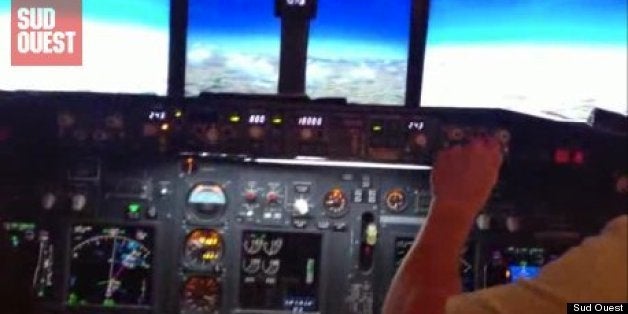 According to news outlet Sud Ouest, French father Laurent Aigon is neither pilot nor engineer. He is merely an aeronautics enthusiast who wanted to do something extravagant for his children. So he spent years building an incredibly realistic Boeing 737 cockpit that can be used as a training simulator.
Aigon, who works as a waiter in Lacanau, ordered airplane parts from around the world -- some at great expense -- and worked thousands of hours to build the functional replica in his children's bedroom. With the help of fellow enthusiast Jean-Paul Dupuy, Aigon tinkers with the mechanics, relying on information he finds on the web. He also reaches out to friends for additional help when the tasks are above his level of expertise.
However, it seems the five-year enterprise has become much more than a pet project for Aigon. According to local reports, the 40-year-old has recently been contacted by an aircraft maintenance company about his design. A French aeronautics maintenance institute in Bordeaux-Mᅢᄅrignac even offered the innovative father a guest lecturer position.
Take a tour inside the functional airplane cockpit in the video (in French) below.
BEFORE YOU GO
PHOTO GALLERY
Awesome Dads