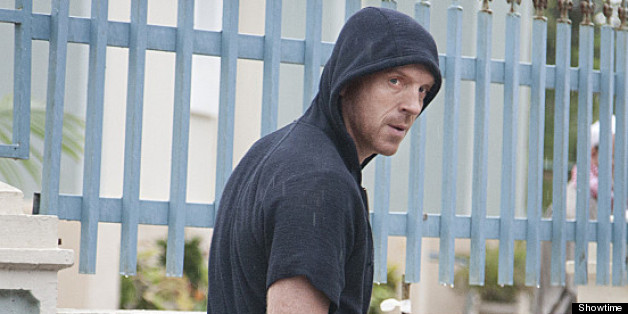 Could "Homeland" lose Brody -- or another major character -- in Season 3? David Nevins, Showtime's president of entertainment, addressed the possibility at a press event on Tuesday.
During Showtime's executive panel at the Television Critics Association Summer 2013 press tour, HuffPost TV asked Nevins about the fact that he and his executives have multiple agendas -- they must serve commercial goals, i.e. they must get and keep subscribers, and they must also try to allow "Homeland" to be the best it can be creatively. Given that struggle, how is the network trying to balance those two elements? Will the show have to lose cast members eventually, possibly including Nicholas Brody (Damian Lewis), and perhaps eventually have a rotating cast of characters?
"You can't keep the same dynamic. They will have to change it up. There is no question which master you try to serve," i.e., business needs versus creative goals, Nevins said. "But I've never been scared of change. 'Friday Night Lights' [which Nevins produced] flipped over the entire cast between seasons. Can you ever love the show without the characters you loved initially? You do start to fall in love with other characters and new great actors get turned out. I think same thing is true of 'Homeland.'"
As was mentioned in Monday's "Homeland" panel, the start of Season 3 does not include much Brody. And though Damian Lewis was featured in a Season 3 clip reel shown to the media on Monday, the dynamic between Brody and Carrie Mathison (Claire Danes) will be quite different when the show returns Sept. 29.
"Seasons 1 and 2 were really founded on trust and mistrust between Brody and Carrie," Nevins said during the Showtime executive panel on Tuesday. "That still exists in Season 3, but the characters are extremely estranged. They don't know what each other is doing. There's all sorts of poles that the show exists on -- you want Carrie to be a strong, competent action heroine, but you also want her to deal with her vulnerability and her unstable mental condition. You've got to go back and forth and lean in one direction and then lean in the other."
Nevins had spoken previously in the session about how Showtime's model differs from Netflix's and how viewership patterns have changed. He brought elements of that discussion into the "Homeland" discussion as well.
"I want our producers to take risks," Nevins said. "One thing about the new form of television is that it's not about resetting everything back to the beginning at the end of every episode. You more forward in the story. You move forward in time. You take risks, and sometimes, you get beat up for them. But I've said it before -- the enemy of good television is boredom and predictability."
"Homeland" Season 3 premieres on Sunday, September 29 at 9 p.m. ET on Showtime.