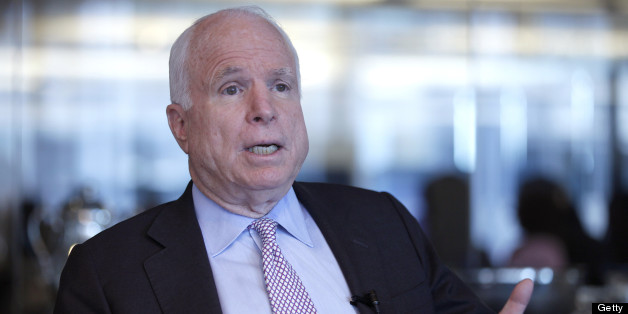 WASHINGTON -- Even after an immigration reform bill he co-drafted passed the Senate, Sen. John McCain (R-Ariz.) said he has plenty of work left to do in selling the idea to his constituents and Republicans in the House.
McCain, speaking at an event hosted by the AFL-CIO labor federation, said he will spend August traveling the "entire state" of Arizona to meet with groups in the influential coalition of Latino organizations, evangelicals and business leaders who want to see reform passed.
"So far -- I have to give you some straight talk -- we haven't done as effective a job as we're going to have to between now and the spring," he said of convincing members and constituents to support immigration reform.
The Senate bill from the "gang of eight," of which McCain was a member, passed 68 to 32 last month but likely won't get a vote in the Republican-controlled House. House Republicans have said they will work out their own way forward, and so far, few are working on any plans that include a pathway to citizenship for undocumented immigrants, which is deemed absolutely necessary by Democrats and McCain.
To get House GOP members to agree, McCain and Rep. Xavier Becerra (D-Calif.) said supporters of reform need to get to town halls and call their members of Congress to voice their support.
"It's going to be the courage of Americans to always step forward," Becerra said at the AFL-CIO event.
Many Republicans in the House have ruled out a path to citizenship as "amnesty" that would reward undocumented immigrants for coming to the U.S. without authorization or for overstaying a visa, even though the Senate bill requires a long and arduous process for legalization. McCain said Thursday that leaving out a path to citizenship would continue the existing system of "de facto amnesty" for undocumented immigrants.
"If people live in the United States of America without the protections of citizenship, then some of them, and maybe many of them, they are exploited and mistreated in a broad variety of ways," he said. "That's not what America is supposed to be all about."
McCain said some House Republicans could be convinced to support an immigration bill, but urged supporters not to sink to the level of insulting those on the other side of the debate. He specifically called out remarks by Rep. Steve King (R-Iowa) that drew attention last week. King, who has vowed to try to block comprehensive reform, said many young undocumented immigrants are drug mules with "calves the size of cantaloupes because they're hauling 75 pounds of marijuana across the desert" -- a statement that was condemned by GOP leaders.
"We're not going to talk about people with cantaloupe calves," McCain said, alluding to King. "We're not going to engage in that type of despicable rhetoric."
Pro-reform advocates and politicians, he said, should stay above the fray rather than attacking opponents of immigration reform. "To be disrespectful to these members would be a serious mistake," he told reporters after the event.
"We're not going to do it without active involvement and engagement, and please treat your opponents, those who disagree with you, treat them with respect," McCain said during the public remarks. "We want to keep the high ground on this debate."
BEFORE YOU GO
PHOTO GALLERY
Now We Want Immigration Reform!