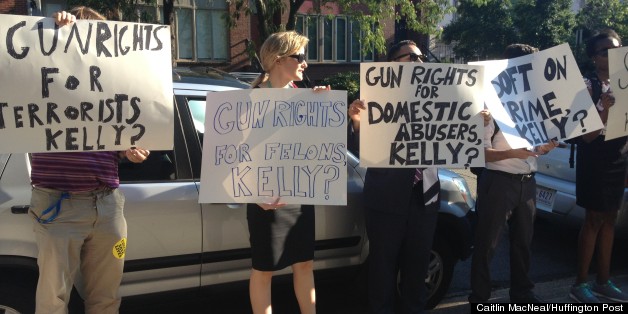 WASHINGTON -- Gun control advocates received a chilling welcome Monday evening outside a Republican Party fundraiser when one of the guests pantomimed drawing a gun and shooting at them on his way into the party.
The incident at a reception for the New Hampshire GOP, headlined by Sen. Kelly Ayotte (R-N.H.), was confirmed by two activists, Laura Sonnenmark and Christian Heyne, who were demonstrating outside on the sidewalk.
"It was the kind of way that a guy would hit on a girl in a bar," Heyne said of the gesture, by a man he described as tall, thin and middle-aged. The guest's apparent ease with the interaction, he said, reminded him "of Shooter McGavin in 'Happy Gilmore,'" a reference to the womanizing antagonist in the 1996 Adam Sandler comedy.
Heyne's parents were both victims of gun violence, shot near their home in Southern California. In 2005, a man who held a grudge against a Heyne family friend fatally shot the friend and Heyne's mother. Heyne's father survived and now works as a gun control activist.
The Ayotte protest was organized by the Washington-based National Coalition to Stop Gun Violence. Coalition organizer Lori Haas' daughter survived two shots to the head during the 2007 massacre at Virginia Tech, when a gunman claimed the lives of 32 people.
Ayotte has been the focus of a number of gun control-related protests ever since she voted against expanding background checks for gun purchases in April. Mayors Against Illegal Guns, the advocacy group backed by New York Mayor Michael Bloomberg, ran ads in New Hampshire to highlight her vote.
Monday's host was lobbyist Rick Murphy, whose firm R.B. Murphy & Associates counts tobacco giant Altria (formerly Philip Morris) among its top clients. Murphy, a former staffer to then-Sen. Judd Gregg (R-N.H.), owns a townhouse across the street from the National Republican Senatorial Committee that has become a popular venue for GOP candidates to rub elbows with wealthy donors.
Monday's gathering looked like a meet-and-greet event staged so that Granite State Republicans could hobnob with 2016 presidential hopefuls. New Hampshire's status as the first presidential primary state makes it a huge draw for would-be candidates. The invitation promised that "special guests" would include Republican Sens. John Thune (N.D.), Rob Portman (Ohio), Marco Rubio (Fla.) and Rand Paul (Ky.), all four of whom have been named as potential GOP nominees. Rubio ultimately backed out of the event, but the other three senators attended.
Outside the event, The Huffington Post spoke to Portman and Thune, who both voted no in April, about whether they would reconsider their opposition to background checks. Thune said, "We already had those votes," and quickly walked away.
But Portman told HuffPost, "I strongly support background checks. I think there are some things that we can and should do, and I voted for some of those, including ensuring that we have mental health provisions that are much stronger than background checks. Hopefully we can get something done."
Portman's cautious comments reflect the political dilemma that gun control poses for moderate Republicans, including Ayotte.
CORRECTION: An earlier version of this story indicated that Monday's event was a fundraiser for Sen. Kelly Ayotte. Ayotte was a featured guest, but the event raised funds for the New Hampshire GOP.
BEFORE YOU GO
PHOTO GALLERY
Senators Who Voted NO On Background Checks