It is already difficult to find Kivalina on a map, but soon it may be impossible.
Not only does the Alaskan village only cover 1.9 square miles of land and is home to less than 400 residents, but it is disappearing. Fast. As one of the most apparent and shocking examples of coastal erosion, Kivalina could be uninhabitable by 2025 -- all thanks to climate change. In this photo taken in Sept. 2005 and provided by Millie Hawley, Kivalina, an Inupiat Eskimo village is seen in on a barrier island off the coast of northwest Alaska. Inupiat Eskimo villagers in the Chukchi Sea village of Kivalina rely on wild animals to survive, but a recent arrival associated with climate warming is causing health concerns. (AP Photo/Millie Hawley)
In 2009, OneWorldTV released a short video (seen below) on the doomed village called "Kivalina: The Canary In The Mine." Narrated in the Inuits' native tongue, the 5-minute clip shows a quick, tragic peek into the residents' plight. "It's just global warming," one villager says in the video. "I mean, it's a lot warmer today than it used to be before."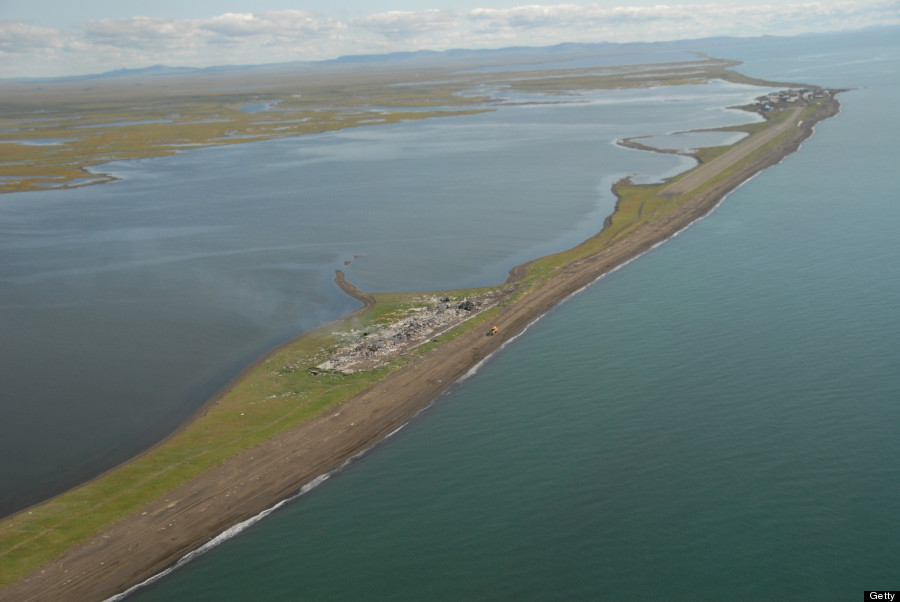 The barrier island on which the village of Kivalina is located stretches along the edge of the Chukchi Sea as seen from a US Coast Guard C-130 on Thursday, August 7, 2008. The dump, airport and village are located on the narrow strip of land. (Photo by Bob Hallinen/Anchorage Daily News/MCT via Getty Images)
Although the U.S. Corp of Army Engineers built a defensive wall to protect Kivalina, it is little more than a temporary fix. Moving villagers to higher land would cost the government $400 million, an amount they have yet to offer. This photo provided by the Rural Alaska Fuel Services via the U.S. Coast Guardshows sandbags along the seawall at Kivalina, Alaska, Thursday, Sept. 13, 2007. (AP Photo/Rural Alaska Fuel Services via the U.S. Coast Guard)
However, the residents of Kivalina refused to give up their home without a fight. They sued 24 of the world's largest oil companies, including BP, Shell, Chevron, ExxonMobil and ConocoPhillips, for the aforementioned cost of moving. The lawsuit claimed that the defendants led the public astray in regards to the effects of climate change, and were involved in a conspiracy to mislead. The villagers lost both their original suit in 2010 and a 2012 appeal. Waves are shown pounding against the sandbagged seawall in Kivalina, Alaska, Thursday, in this Sept. 13, 2007 file photo. (AP Photo/Mary Sage, file)
Kivalina is not the only Alaskan village coming face-to-face with the harsh realities of climate change. According to the EPA, Alaska has warmed twice as fast as the national average in the last 50 years. In fact, 12 towns voted to move to new locations as a result of climate change, a practice Ars Technica calls "climigration." The eroding bank along the Ninglick River at Newtok, Alaska, shown on May 24, 2006, has long been a problem for the village 480 miles west of Anchorage and scores of other Alaska communities. (AP Photo/Al Grillo)
BEFORE YOU GO
PHOTO GALLERY
Most Vulnerable Nations to Seafood Security Threats from Ocean Acidification