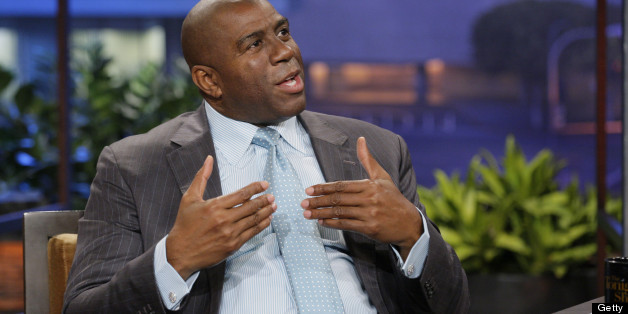 As he stood on the field at Dodger Stadium, Magic Johnson looked hundreds of students in the eyes and conveyed one simple message.
"You have to adapt and adjust," Johnson said.
He said those words last week on the heels of the 15th anniversary of the Taylor Michaels Scholarship program, which has awarded scholarships worth $4 million to 460 minority students through the Magic Johnson Foundation. But as Johnson spoke with the Los Angeles News Group recently at The Skirball Center before a brunch honoring the students, it's clear that life lesson apply both to the Dodgers and Lakers.
The Dodgers currently lead the NL West Division after spending the beginning part of the season ravaged by injuries. The Lakers enter the 2013-14 season with uncertainties, ranging from Dwight Howard's departure and Kobe Bryant's torn left Achilles tendon. Johnson is part of the Dodgers' ownership group, Guggenheim Baseball Management. Although he doesn't have any formal role with the organization, Johnson's standing as a five-time NBA champion with the Lakers carries obvious weight. So it's only fitting he talked a bit about both teams.
Q: What's sparked the Dodgers' resurgence?
Johnson: They did a wonderful job. When I was on vacation, they were in last place. When I came back, we were in first place. Maybe I should stay away. I told everybody it would be a long season and be patient. We got healthy. Now we're in a position to really do some good things and win our division. It's still going to take a lot of hard work. But the team has really built and come together as one. We're on the same page. That's very important. The offense is clicking. We got solid pitching. Our relievers are doing an outstanding job. Last, but not least, our role players have filled in very well.
Q: Do you anticipate the Dodgers making any moves before Wednesday's trade deadline?
Johnson: You never know what's going to happen with trade deadlines. What we don't want to happen is deplete our farm system. We're trying to grow it instead of have it shrink. We're very excited about the fact that we have a solid team and if Stan (Kasten) and Ned (Colletti) decide there's a trade to be made that will help our team, well bless that. But are we out there looking and pursuing? No. We feel we're in a good position. Something has to happen that's outstanding probably for us to pull a trade.
Q: Has your role with the Dodgers evolved this season compared to last year?
Johnson: No. I'm enjoying my role. I called every player before the season and talked to them on how we didn't have a leader. I talked to (Clayton) Kershaw, (Adrian) Gonzalez and A.J. Ellis recently and I said, 'You guys have really come on as the leaders of this team.' When I recap last season, we didn't have a leader. That hurt us. My role is to look and see what's missing and try to fill the blanks. Wherever they need me to fit in, that's what I'll do. I've tried to teach our players about having a winning mentality.
Q: What's your outlook on the Lakers next year?
Johnson: It's going to be a tough season, especially with Kobe being out. I think for Coach (Mike) D'Antoni, he's going to be able to do the things he wants to do. That's run and gun and play at a fast pace. For the first time, the Lakers will be underdogs and under the radar. Let's see how they respond to that.
Q: How will the Lakers do next season?
Johnson: Are they a legitimate championship team? I don't think so. Are they a playoff team? I think they can be a playoff team if Kobe's back healthy.
Q: Do you think the Lakers' plan to have financial flexibility next offseason could land a coveted superstar, such as LeBron James or Carmelo Anthony?
Johnson: They're going to have about $50 million (in cap space). As long as they don't mess it up, potentially they can have great free agents. It's not just about the free agents. They'll have $50 million to spend. A lot of superstars get traded. The Lakers will be in the free agent hunt and can take on a big player's salary looking to be traded. There's a lot of guys who can turn the Lakers around just like that. It's a great position to be in. They have to manage the cap well and they've done that. So it's all up to Jim Buss and the Buss family on what they're going to do.
BEFORE YOU GO
PHOTO GALLERY
101 NBA Posterizations