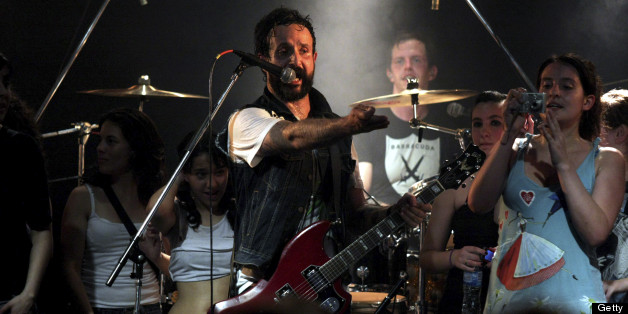 Molotov is dropping the word "maricón."
The Mexican rock band issued a statement via Twitter Monday night saying it would drop the anti-gay slur in light of a vicious attack against Chilean teen Esteban Navarro. Assailants allegedly attacked the 19-year-old Navarro last month with with a machete, knives and iron bars while yelling anti-gay insults at him. The attack resulted in the amputation of Navarro's leg.
"As an act of solidarity with Esteban Navarro and the LGBT community, we are choosing to refrain from using the word "maricon" in our song lyrics during our upcoming U.S. tour," Molotov's statement says. "This word was used by Esteban's assailants in this pointless attack, and therefore, has no place in our set."
Molotov's statement comes amid pressure from LGBT activists to drop "Puto," one of their most popular songs, from their setlist ahead of a U.S. tour beginning Tuesday in Orlando.
But the statement didn't go far enough for everyone. Blogger Andrés Duque took to Twitter to ask the band this question:
Dear @MolotovBanda, why is "maricon" homophobic enough not to sing it during U.S. shows while you still plan to sing it in Latin America?

— Andrés Duque (@Blabbeando) July 30, 2013
GLAAD, one of the LGBT groups that had protested the song "Puto," cautiously applauded Molotov's move.
"Eliminating the word 'maricón' is a good first step, and we hope the band continues to leave such hateful sentiments out of the song when it is performed in the United States, Latin America, or anywhere," Dave Montez, GLAAD's Acting President, said in a press release. "The song still contains the harmful slur 'puto' and while the band claims its intent is to use the word as synonymous with 'coward,' it shouldn't be. Every time a young person hears that word as an insult or a slur, it hurts them."
Molotov defended the message of the song "Puto" in a separate posting on Facebook, saying:
Our music gives a voice to the people who aren't in a position to do so for themselves and often times we sing about things that some governments don't want you to see or hear. It is in this context that we composed the song "Puto." It was conceived as a athartic song about our situation in Mexico at the time in the late '90's and dedicated to anyone who attempts our freedom, to any coward who attempts against the people and to anyone who attempts against humanity. It was never meant to disrespect the gay community.
Both statements were released in English, rather than Spanish.
For many of their fans, the explanation rings true.
"[I]f people don't understand the context of "puto" when used by Molotov, then they don't know Molotov," Facebook user Rosario Cruz wrote in a comment on the band's statement.
Nevertheless, it's easy to see why song's lyrics come across as offensive to the LGBT community. As translated by blogger Andrés Duque of Blabbeando back in 2006, the words go:
So you are macho man, no? Ah, so macho, no?
Faggot, girly, you're rather a little male-whore, no?

Background chorus: Fag, Fag, Fag, Fag, Fag. Fag, Fag, Fag

FAG!! He who doesn't jump up and down
FAG!! He who doesn't shout and swear
FAG!! The guy who remained in conformity
FAG!! He who believed the official reports
FAG!! He who takes away our food
FAG!! Also he who covers it up
FAG!! He who doesn't do whatever he wants
FAG!! Born a fag, dies a fag

Love the killer
Kill the faggot
And what does that son of a bitch want?
He wants to cry, he wants to cry
Spanish speakers can listen to it here:
To some degree, Molotov's use of the slurs over their 17-year career reflects usage in Latin America. Though places like Argentina and Mexico City have legalized same-sex marriage in recent years, anti-gay slurs like "maricón," "marica," and "puto" -- all roughly equivalent to the English term "faggot" -- are still commonly heard throughout the region.
Should Molotov keep playing "Puto" after dropping the anti-gay slur "maricón?" Let us know what you think in the comments.
H/T: Latino Rebels
BEFORE YOU GO
PHOTO GALLERY
27 Reasons Why U.S. Shouldn't Lead War On Drugs