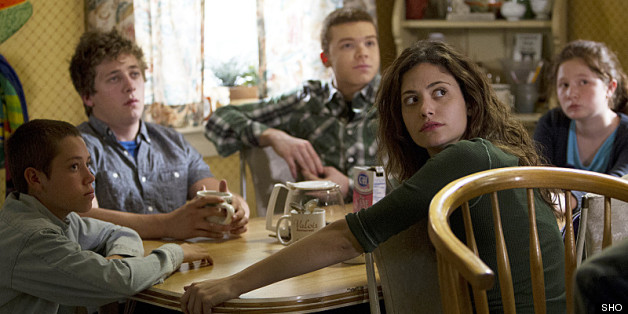 Showtime president David Nevins announced the premieres for five of the premium cable network's returning series Tuesday at the Television Critics Association Summer 2013 press tour, including "Shameless," "Episodes," "House Of Lies," "Nurse Jackie" and "Californication."
Matt LeBlanc's comedy "Episodes" will debut alongside "Shameless" and "House Of Lies" on Sunday, January 12. "Shameless" will start off the comedy block at 9 p.m., followed by "House Of Lies" at 10 p.m. and "Episodes" at 10:30.
"Californication" Season 7 will premiere alongside "Nurse Jackie" Season 6 in April. The exact premiere date has yet to be announced.
Showtime also made some more announcements about what and who could be coming soon:
The cable network has ordered the comedy pilot "Trending Down," which stars Philip Seymour Hoffman as Thomas Payne and the newly-announced Kathryn Hahn as his wife.
Josh Hartnett and Eva Green are the first stars to sign on for "Penny Dreadful," a psychological thriller that centers on Ethan Chandler (Hartnett), "a charming American who finds himself trapped in the darkest corners of Victorian London."
Ruth Wilson will star opposite the already-announced Dominic West in "The Affair," a drama pilot about two couples dealing with infidelity.
Showtime announced a six-part documentary series called "Time of Death," which will follow brave, terminally ill individuals as they live out their final days.
Scott Buck, "Dexter's" showrunner and executive producer, has signed a two-year overall deal with Showtime. Nevins noted what that could mean for a possible, long-discussed "Dexter" spinoff.
PHOTO GALLERY
TCA Quotables, Out Of Context