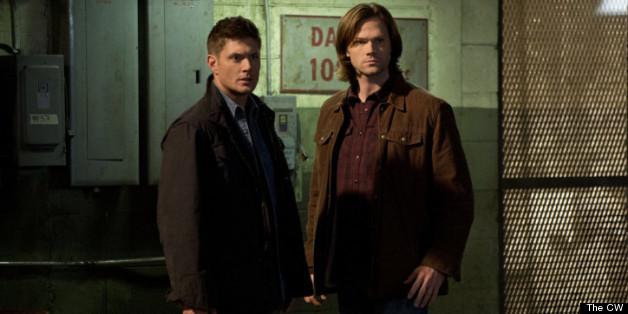 Details have emerged about the "Supernatural" spinoff that The CW has in the works, and it looks like fans of the long-running series could be seeing it pretty soon.
At the Television Critics Association Summer 2013 press tour, The CW president Mark Pedowitz said the "Supernatural" spinoff would be set in Chicago and will be planted in the show's upcoming ninth season.
Executive producers Jeremy Carver and Robert Singer told Entertainment Weekly earlier this week that the "Supernatural" spinoff is currently scheduled to be introduced to viewers as Season 9, Episode 20. Carver told EW that if The CW picks it up, the show will "explore the clashing monster and human characters," and "have main characters who are both human and monsters." That will include,"families of monsters and families of hunters," Singer added, pointing out that the spinoff is "much more of an ensemble than 'Supernatural.'"
Though Pedowitz said that he didn't think there are "any plans for [regular] characters on 'Supernatural'" to be on the spinoff, the EPs told EW that the show's stars Jared Padelecki and Jensen Ackles will be a part of the Chicago-set spinoff. "Most spinoffs, you spin characters out and create a show about them. Jared and Jensen will be in the spinoff, but it's an entirely different cast of characters," Singer said. Will some of those characters be female? "Hopefully, depends how they craft the show," Pedowitz noted at TCA.
As for "Supernatural," The CW's current longest-running series, Pedowitz said he sees the show continuing to a Season 10 and perhaps beyond. "I would love 'Supernatural' to continue for as long as they can continue, as long as they have great stories to tell," Pedowitz said at the TCAs. "From what I've read, Jeremy Carver is writing arcs that could go longer. As long as fans are there and ratings are there, there's no reason it couldn't continue ... If they can still tell great stories and Jared and Jensen still want to do it, why wouldn't you continue?"
For more on the "Supernatural" spinoff, click over to EW.
"Supernatural" Season 9 premieres Tuesday, October 8 at 9 p.m. ET on The CW.
PHOTO GALLERY
Supernatural