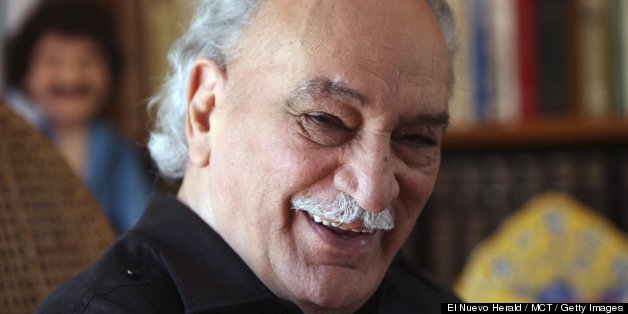 Comedian and radio host Guillermo Alvarez Guedes -- famous for his "ño!" and for crafting stand up routines that drew heavily on the day-to-day experiences of South Florida's Cuban exile community -- died on Tuesday in his Miami home at the age of 86, the Miami Herald reports.
The Cuban-born star, known as Alvarez Guedes to his fans, was admitted to Coral Gables Hospital on July 15 due to stomach pains but was later discharged after some improvement. As an icon of the Cuban-American exile community, Guedes filled the Miami airwaves with "Aquí está Alvarez Guedes" on Clásica 92.3 for 15 years, until 2011.
Born in the town of Unión de Reyes in 1927, the future star showed a talent for show business from the time he was a child, when he joined a traveling circus, according to El Diario de Cuba. By the 1950s, he was already acting in dramatic roles on Cuban radio, performing in Havana, and launching a record label, Gema, that would go on to record prominent artists like Bebo Valdés, Willy Chirino and El Gran Combo.
But it was as a stand-up comic in Miami that Alvarez Guedes became a legend. He left the island in 1960, shortly after the triumph of the Cuban Revolution, joining the South Florida exile community. Despite opening on the road for many Cuban artists and embodying the Caribbean charisma and humor he sought to share with his audience, Guedes refused to return to his native country until Fidel Castro's regime ended.
"The best memories [of Cuba] make me sad," the comedian told Miami's Nuevo Herald in 2007. "Cuba is a country that no longer exists, I was born there."
In Miami, Alvarez Guedes' comedy routines played on the day-to-day idiosyncrasies of Cuban culture and language, dissecting the meaning and significance of common Cuban profanities like "coño" (an expletive) and "comemierda" (literally "sh*t-eater," but figuratively "moronic").
"This word, 'comemierda,' is the most beautiful word that we have," Alvarez Guedes said in one of his routines. "It's not a Castilian word, it's not a Spanish word -- it's a Cuban word. And we're very proud of it."
He ruminated on the differences between Cuban and Anglo culture, with one of his best-selling records offering lessons for Americans on "How To Defend Yourself From The Cubans." The jokes, often delivered as punchy anecdotes, resonated with a bicultural community making a home in a new environment.
Notwithstanding his risqué humor, Alvarez Guedes' humor was more playful than aggressive, and he earned a reputation as a kind man in the Miami community.
"He helped a lot of people," Family friend Delio Regueral told Miami's Local 10 News. "People would come and knock on his door and if he could help, he would."
Cuban-American U.S. Rep. Ileana Ros-Lehtinen (R-Fl.) offered her condolences to the Alvarez Guedes family and praised the comic's humor.
"The passing of Alvarez Guedes is a profound loss for the Cuban exile community as his witty and saucy stories transcended generations," Ros-Lehtinen said in a statement. "His death is another name in a list of renowned Cuban personalities who have passed away in exile without seeing freedom in their beloved homeland of Cuba."
The Latin American icon is survived by his widow Elsa Alvarez Guedes as well as two daughters and four grandchildren.
English speakers can hear Alvarez Guedes explain the proper use of the Cuban term "comemierda" in the video below.
BEFORE YOU GO
PHOTO GALLERY
Alvarez Guedes