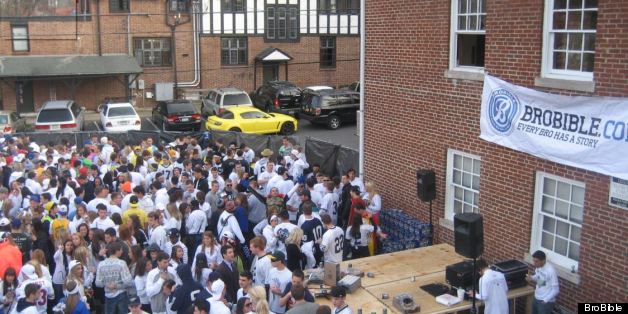 Party school rankings: abundant, controversial, critically important to ordinary Americans.
Although Princeton Review is the one cited most often, plenty of others are out there, from Playboy and Newsweek to Fiesta Frog. PayScale created the party schools that pay, and BuzzFeed tried the smartest party schools.
But schools themselves always push back against these lists, insisting they're flawed and don't tell the whole story.
Where can the already bewildered party animal community get a little clarity?
BroBible has stepped into the breach "to establish a true, reigning party school ranking," with its Party School Index:
Here is the formula for how we created each school's score:

We took the schools on Princeton Review's Top 20 Party Schools list since 2002 and applied a weight for where each school fell on the list over the last 12 rankings. A #20 ranking = 1 point. A #1 = 20 points. 2002's edition was the oldest one we could find.
We applied the same weight to Newsweek's 2012 and 2011 Top 25 Party School Rankings. #25 ranking = 1. #1 ranking = 25 points.
We also applied the same weight to Playboy's list, although, in some years, Playboy released the ranking as a Top 25 (2006, 2002, 1987), other years as a Top 20 (2011, 2012), and other years as a Top 10 (2009, 2006). To keep the weight accurate for all Playboy schools, we made Top 10 years #10 = 10 points, #1 = 20 points.
Each school on Fiesta Frog's Top 100 Party Schools list received .05 points depending on its position on the list.
Each I'm Shmacked school received 5 points simply for being an I'm Shmacked school.
Because it's a given that schools with successful football and basketball teams (and, thus, a sports culture in general) tend to party harder than most (... something about all those tailgates), we've included a weight for sports. A school received 5 points for going to a BCS Game from the 2001/2002 season through the 2011/2012 season, 10 points for winning a BCS Game, 10 points for going to BCS Championship, and 20 points for winning a BCS Championship. College hoops schools were weighted lower: 5 points for going to a NCAA Tournament Championship since 2002. 10 points for winning.
Finally, each of BroBible's five full-time editors blindly ranked their Top 10 party schools based on general partying reputation (as college bloggers, we see a lot of what you're up to out there) and personal experience (we've lived it, Bros). The schools were weighted #10 = 1 point, #1 = 10 points.
Then we simply added up the score for all 164 schools to come up with a BroBible's unique Party School Index.
Check out the top 11 in the slideshow below, and head over to BroBible to see the rest of the list:

BEFORE YOU GO
PHOTO GALLERY
The Best Party Schools In The U.S. According To BroBible