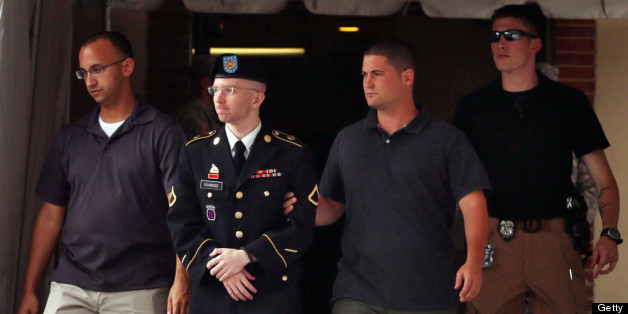 FORT MEADE, Md. -- As sentencing began for Bradley Manning, the Army private first class who was convicted Tuesday on 19 counts for sending 700,000 files to WikiLeaks, the judge overseeing his case made a brief but telling announcement.
Manning, said Col. Denise Lind, has been in confinement for 1,162 days. For the degrading conditions he endured while imprisoned at the Quantico Marine brig, where he was forced to sleep naked at night and kept in solitary confinement, she had previously awarded him an additional 112 days credit.
As of Wednesday, Manning will receive a total of 1,274 days -- or three and a half years -- off of any eventual sentence. On paper, the maximum sentence for the crimes he was convicted of is 136 years. So he now only faces a potential 132 and a half years in prison.
BEFORE YOU GO
PHOTO GALLERY
Guantanamo Bay Revelations From WikiLeaks