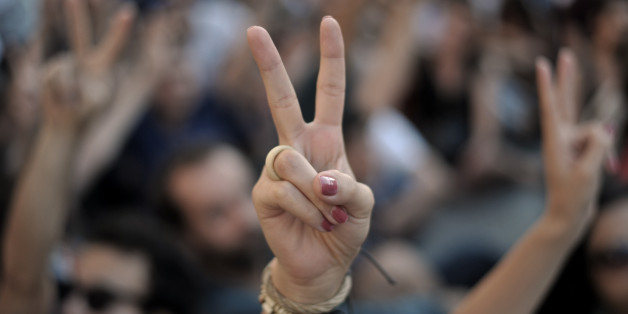 Bravery, kindness, humility, a killer intuition.
Everybody's got their something. You know, a special quality that truly defines them. Whether it be how you carry yourself, your attitude or your outlook on life, spirit animals are there to guide the way.
Sure, the more traditional identification is with actual animals, but what about celebrities? Sometimes they seem like an entirely different breed in their own right. See how these 12 traits stack up with your favorite stars, then get ready to channel your inner Hollywood.
1. Creativity: You live for the arts just as Lady Gaga and Justin Timberlake do. Music, film, writing, acting, dancing -- the whole nine yards. Some people don't quite get your form of expression and that's fine. There is no such thing as over-involvement or wearing too many hats. The greatest feeling in the world is letting those juices flow even if it means slapping your name on the front of some mundane product. The more exposure and opportunities, the better.
2. Intelligence: If your brain is your favorite quality, enter your spirit celebs Natalie Portman and Matt Damon. Portman is Hollywood royalty not only for talented acting but also for her respectable academic achievements (she majored in psychology at Harvard). Like Natalie, you are the perfect combination of brains and beauty.
The same goes for Matt Damon. He attended the Crimson school as an English major in 1988 but dropped out to film smaller roles. Even though Damon didn't earn a degree, he's definitely sharp and flexes his quick wit in everything he does. Smarties unite!
3. Confidence: An awesome style, serious swag, a fierce tongue. You own everything and dare others to take it or leave it, just like Gwen Stefani and Kanye West. Gwen is unlike anyone else - she crosses music and career genres with ease. Why? Because she can. No one questions her.
Kanye West's ego is no secret. If you're also comparable to God or Steve Jobs, consider the rapper your inner reincarnate.
4. Humble: Do friends describe you as "real?" Then you're totally a Rashida Jones/Jason Segel. Segel might be the most down to earth guy in Hollywood. He's got an everyman quality that we easily relate to. What you see is what you get -- a great sense of humor and laid back attitude that keeps you grounded.
Rashida Jones is the female counterpart to Segel. She's the cool girl next door we want to be and also be friends with. Sometimes she's dorky ... heck, so are you!
Jones radiates positivity and keeps it real with a grateful approach to life and her successful career.
5. Adaptability: Being able to transform oneself and adjust to situations is a special skill. Not many can pull this off. You step out of your comfort zone frequently and thrive on anything and everything new. Your celebrity spirit animal is none other than the queen of reinvention, Madonna.
A close second is Christian Bale. He is arguably the most devoted celebrity adapter. He molds himself into character and gets consumed by his roles. Anything for the craft!
6. Giving: Are you an avid volunteer and actively engaged in political discussion? What about putting others before yourself? This charitable quality resonates with George Clooney and Angelina Jolie. Clooney simply is the man. He uses his star power for good, frequently speaking out against Darfur and working with the UN to combat world issues.
Angelina Jolie is basically a reformed saint.
The once rebellious actress now fights for human rights and travels with the United Nations High Commissioner for Refugees. Is helping your higher calling? Then you are an Angelina or George.
7. Fearless: No obstacle is too hard or feat too high. You defy the odds and make shit happen. Setbacks? HA. You laugh in the face of failure. You have the combined souls of Beyonce and Robert Downey Jr.
8. Self discipline: Calling all Type A's: Your celebrity spirit animals are Gwyneth Paltrow and Jason Statham. Gwyneth has a strict regimen she stands by. We may disagree with what GOOP espouses but it works for the actress. Laser focus on health, career, diet, family, etc. is the determining factor of the self disciplined.
Statham is no one to shrug off either. The actor typically plays the action hero and we can see why. He's dedicated to achieving a goal at all costs, especially when it comes to staying fit.
9. Outgoing: You're friendly, social and feel a connection to the word extrovert. You embody the vibes of Jennifer Lawrence and Ryan Gosling. Like you, these stars possess a certain warmth and openness that draws people in.
10. Dependable: People can depend on you like they do Tom Hanks and Sandra Bullock. You're a safe bet and are always reliable in whatever you do (which you pull off flawlessly).
11. Niceness: Got a heart of gold? So do Ellen DeGeneres and Johnny Depp. These famously sweet stars are helpful, selfless and just plain good. Depp is gracious to others as is Ellen (on and off her show).
They give us hope that being the nice guy pays off.
12. Toughness: No one messes with you. You're rough around the edges and don't tolerate any nonsense.
You guessed it. The tough celebrity spirit animals are Samuel L. Jackson (check his bio for a refresher) and the ultimate badass, P!nk.
Namaste.

BEFORE YOU GO
PHOTO GALLERY
Celebrity News & Photos