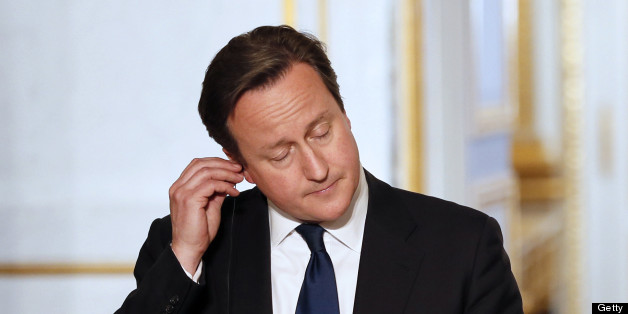 David Cameron gave a mixtape to his fellow G8 leaders at their summit in June, and High Fidelity it is not.
The themes of the meeting in Northern Ireland were tax evasion and transparency, but the 10-song playlist had no clear unifying theme. In fact, the Telegraph reports that the songs were not selected by Cameron at all.
According to The Independent, the playlist was put together by BPI, the British record company trade association, as "a bespoke creation for the leaders."
The 10 songs constitute a smattering of the chart-topping adult contemporary fare Barack Obama or Vladimir Putin might have caught if they tuned into BBC Radio 2 while cruising around the Lough Erne Resort.
The Guardian called the mixtape an offering of "well-scrubbed young men and woman peddling polished but largely derivative takes on folk and soul, with a sideline in tastefully bleeping electronica."
The list includes "Tessellate" by Alt-J, the winners of last year's Mercury Award for best album by a British or Irish artist. Also making the cut was "Lightning Bolt" by Jake Bugg, whose acoustic rock has invited comparisons to Bob Dylan.
Unsurprisingly for a collection of pop hits, five of the 10 songs contain the word "love" in the title.
According to The Independent, the G8 Best of British playlist was handed out to each government leader on a USB stick.
If Cameron had actually made the playlist, it likely would not have contained so many contemporary pop songs. When Cameron picked his favorite discs for a desert island on a BBC radio show in 2006, his list included Bob Dylan's "Tangled Up In Blue," Felix Mendelssohn's "O, for the wings of a dove," and "This Charming Man" by The Smiths. The Smiths guitarist Johnny Marr subsequently forbade Cameron from liking his band.
The exact contents of Cameron's G8 mixtape were revealed by a Freedom of Information request. They are as follows:
Alt-J – "Tessellate"
Jake Bugg – "Lightning Bolt"
Laura Mvula – "Green Garden"
Lianne La Havas – "Is Your Love Big Enough?"
Ben Howard – "Only Love"
Gabrielle Aplin – "Home"
Tom Odell – "Another Love"
Rudimental feat. John Newman – "Feel the Love"
Birdy – "Skinny Love"
Conor Maynard – "Can't Say No"
BEFORE YOU GO
PHOTO GALLERY
David Cameron's G8 Best of British Playlist