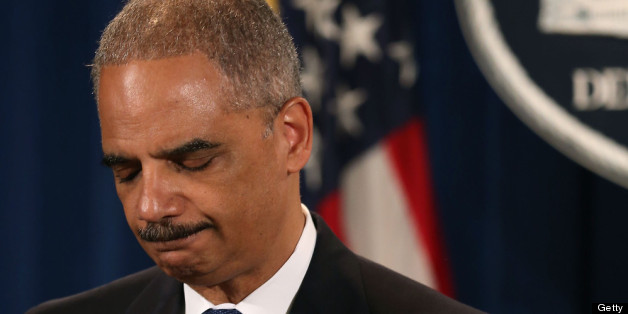 WASHINGTON -- A House Judiciary Committee report released on Wednesday concludes that Attorney General Eric Holder gave "deceptive and misleading" testimony in May when he told Congress he had never been involved in a potential prosecution of members of the news media.
In the report, the Republican-led House committee accuses Holder of attempting to "circumvent proper congressional oversight and accountability by distorting the truth about the Justice Department's investigative techniques targeting journalists."
The report says it is difficult to square Holder's testimony with his approval of a search warrant application in 2010 calling a Fox News journalist a probable co-conspirator in a leak investigation.
Rep. Bob Goodlatte (R-Va.), chairman of the Judiciary Committee, said in a statement that Holder's testimony qualifies as "just the most recent example in a long list of scandals that have plagued the Department."
"I find the lack of leadership at the Department of Justice extremely alarming," he said.
Democrats have come to Holder's defense, saying in a report that Holder did not lie during his May testimony.
"After months of oversight work, the Minority staff report makes clear that Attorney General Eric Holder did not provide deceptive or misleading testimony to the Judiciary Committee, and cooperated fully with the investigation into his appearance before the Committee," Rep. John Conyers (D-Mich.) said in a statement.
In his testimony in May, Holder said that with regard to a potential prosecution of the press, that is not something he had ever been involved in.
In a defense of Holder, the Justice Department says that at no time before or after seeking the search warrant have prosecutors sought approval to bring charges against the reporter.
BEFORE YOU GO
PHOTO GALLERY
Eric Holder In The Hot Seat