 Americans are united in skepticism that they will benefit from President Obama's policies. Republicans are divided on the direction their party should take. And pollsters are split on how to poll New York City's mayoral race. This is HuffPollster for Wednesday, July 31, 2013.
REPUBLICANS DIVIDE OVER WHERE THEIR PARTY SHOULD GO - HuffPost: "According to a poll released Wednesday by Pew Research, 67 percent of Republicans and Republican-leaning voters agree that the party "needs to address major problems" before the next presidential election, and 59 percent say the GOP needs not only to make a stronger case for itself, but also to reconsider some of its positions. But further questioning exposes deep rifts over which way those positions should shift. While 54 percent say GOP leadership should move in a more conservative direction, 40 percent say it should become more moderate....Republicans are equally divided on a number of individual issues. There's broad agreement that the party should move to the right on government spending, and that its position on gun policy is about right. But that consensus disappears on several major social issues. Fewer than half agree with the party's stances on gay marriage, immigration, abortion, and government spending, and voters are almost evenly split on which direction to move on social issues like gay marriage and abortion." [HuffPost, Pew Research report]
Signs of trouble for Christie, Rubio - Nate Cohn: "With little Republican appetite for moderation, it's not surprising that Rubio's numbers have dropped. It's also not surprising that he's moving to reaffirm his conservative credentials on the push to defund Obamacare and ban abortion after twenty weeks. These numbers suggest that the Republicans won't be eager to nominate someone pushing the party to moderate, at least on cultural issues and government spending. Chris Christie's favorability ratings suggest as much: He's only at plus--17, with 47 percent favorable and a sizable 30 percent holding an unfavorable opinion. That's worse than Romney ever had, and it's probably inconsistent with winning the Republican nomination." [TNR]
MONMOUTH POLL FINDS SKEPTICISM THAT OBAMA WILL FOCUS ON MIDDLE CLASS - Monmouth University release: "The American public is split on the veracity of Pres. Obama's announcement that he wants to refocus the remainder of his term on helping the middle class. Less than half (46%) believe the president when he says this, while exactly half (50%) do not believe him...Looking back over his term so far, Americans put the middle class at the bottom of the list for groups who have been helped by Obama's policies. Among five different groups asked about in the poll, Wall Street bankers are the most likely to be seen as doing well under Obama, with 44% of Americans saying this group has benefited a lot and 26% saying they benefited a little from the president's policies. Wealthy families (35% a lot and 31% a little) and health insurance companies (34% a lot and 27% a little) are next in line as perceived beneficiaries of Obama's policies. Just 20% of Americans say poor families have benefited a lot and 39% say they have benefited a little during the Obama era. Middle class families, though, stand at the bottom of the list – below both rich and poor. Only 12% of Americans say the middle class has benefited a lot from Obama's policies and 39% say it has benefited a little. In fact, nearly half (46%) say that middle class families have not benefited at all." [Monmouth]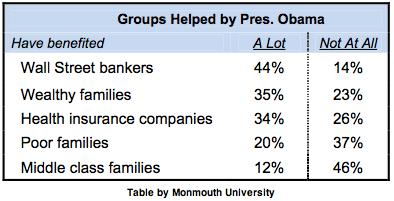 NYC METHODOLOGICAL DIVIDE, PART II - Yesterday's HuffPollster reviewed the methodological divide separating media and campaign polls on New York City's upcoming mayoral primary. The key difference is that the media pollsters rely on random digit dial (RDD) samples because of their ability to reach virtually all adults, but face a tough challenge identifying the roughly 12 to 14 percent of voting-age adults who are likely to vote. The Democratic campaign pollsters are sampling from official lists of registered voters, accepting lower coverage of cell-phone only voters and those with non-listed phone numbers in exchange for a more accurate classification of true likely voters based on actual party registration and past voting records for individual respondents. [HuffPollster]
More than just the sample source - Geoff Garin, president of the Democratic firm Hart Research and pollster for former comptroller Bill Thompson, says his approach goes beyond simply sampling from the voter file. "We're not doing a representative cross section of voters," Garin tells HuffPollster, "we do three samples." Their process involves interviewing three separate samples of 200 likely voters each of African Americans, Latinos and "all other who are primarily white." They then weight the three samples back together to match estimates of the racial composition taken from the voter file, produced by the Democratic list vendor Catalist. "The Catalist voter file has a race prediction that's about 90 percent accurate in New York," Garin explains. His weighting procedure relies not on the self-reports of respondents but rather on Catalist's prediction of the race of each individual on the voter file. "The big change in what we do, over the past four years, is the extent to which we depend on the voter file distribution," Garin says. "We may have some variation in what people say they are, but very little variation in how people are rated in the voter file. And it does minimize the static, I think, that normally occurs from poll to poll."
So does it matter? Garin and the other Democratic pollsters we interviewed were emphatic that their approach does a better job identifying the true likely electorate, while other approaches sample too broadly. But note that none of the campaigns have released citywide poll results so far. If the public polls were producing very different horse race results than what the campaigns are seeing in their private data, the disadvantaged candidate or candidates would have had great incentive to release their results. Privately, the pollsters will quibble with one poll result or another, and they generally argue that true likely voters are marginally more engaged in the campaign and more familiar with the candidates. But they also concede that the public polls have shown roughly the same candidate rankings and demographic composition numbers that they see in their own polls.
The exception: Thompson among African-Americans. The lone campaign poll release came from the Thompson campaign in June, in the form of an email to supporters obtained only by the Wall Street Journal. The email described an internal Thompson poll conducted by Garin in late June and early July. It showed Thompson winning 32 percent of the vote among African American likely Democratic primary voters, to 21 percent for Anthony Weiner, 12 percent for Christine Quinn, 7 percent for John Liu and 6 percent for Bill de Blasio. Thompson's own polling showed him doing better than three public polls conducted at about the same time, which gave him between 14 and 21 percent among black Democrats. That said, the release appeared half-hearted. A Thompson spokesman "declined to comment on the campaign's internal polls" for the Wall Street Journal story, and the campaign did not distribute the memo to other news organizations. Also, readers should remember that internal campaign polls that make their way into the public domain typically show a modest statistical bias toward their sponsor [WSJ, HuffPost review of past bias of partisan polls]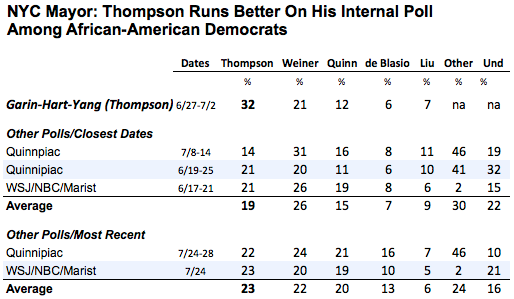 Polls have understated support for minority NYC candidates in past elections - Back in May, the Guardian's Harry Enten summarized polling from past years that supports Garin's argument that public polls may be understating his client's potential: "Historically, polls in New York City mayoral elections have been consistently off estimating the minority vote. In 2009, for instance, against Bloomberg in the general election, Thompson was pegged by the final polls to win anywhere from 53%--62% of black voters, and 36%--43% of Latino voters. He won 76% of the black vote and 55% of the Latino vote. The same pattern repeated itself in both the 2005 and 1997 general elections, meaning the Republican candidates had far smaller victories than the polls predicted. Unsurprisingly, this minority polling problem has caused surveys to underestimate the performance of minority candidates in New York City's primary rounds for mayor. In 1989, final surveys had Ed Koch and David Dinkins in a tight race; Dinkins won by 8pt. In 1997, Al Sharpton trailed Ruth Messinger by 22pt; he lost by only 8pt. In 2001, Freddy Ferrer and Mark Green were in a dead heat; Ferrer got 5pt more than Green did in the first round. In 2005, Ferrer led Weiner by 5--7pt; Ferrer won by 11pt." [Guardian]
Debate unlikely to be settled- So long as campaigns continue to keep their internal polls under wraps, this debate will remain mostly a matter of conjecture. New York City polls have produced volatile results, both this year and in past elections, but we have only scattered anecdotes available to judge their performance. So while an intriguing divide exists in the way campaign and media pollsters have approached this year's New York City Mayor's race, its consequences may stay under wraps until after the votes are counted.
POLLSTER CHART ARCHIVES NOW SEARCHABLE - We've added a search function for all of our archives since 2008. Check it out here. It's still in beta, so let us know what you think.
HUFFPOLLSTER VIA EMAIL! - You can receive this daily update every weekday via email! Just enter your email address in the box on the upper right corner of this page, and click "sign up." That's all there is to it (and you can unsubscribe anytime).
WEDNESDAY'S 'OUTLIERS' - Links to more news at the intersection of polling, politics and political data:
-More Americans think Huma Abedin should leave Anthony Weiner than stay with him. [HuffPost]
-Washington Post's Fact Checker gives four "Pinocchios" to a Chamber of Commerce/Harris poll on Obamacare. [WaPost]
-Harry Enten finds that restrictions on voting by felons has a bigger impact on elections than voter ID laws. [Guardian]
-Eighty-five percent of smokers say they've tried to quit at least once in their lifetime. [Gallup]
-Two thirds of Washingtonians approve of credit cards and uniform colors for the city's taxi cabs. [WaPost]
-Nathan Yau reports on a coming revamp of Data.gov. [Flowing Data]